How important is truth to you? Have you tried to live life as if trust and truth don't matter? Do you feel good about people you can't …trust?  Take a minute to evaluate how much the truth matters to you and the people you interact with on a regular basis.
Now think about what or who you are "trusting" in.  Specifically I want you to consider your beliefs or thoughts about God. Consider your church and what your leaders are teaching you.
Would you know the truth if it slapped you on the face? How can we know the truth?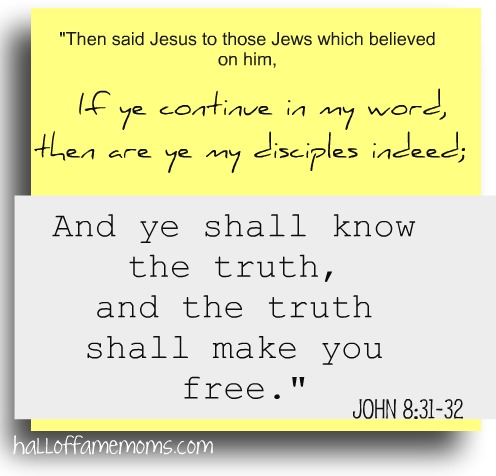 I want to tell you there is absolute truth and you can find it in God's Word.
You need to know if your church is telling you the truth and the way to do that is by knowing God's word for yourself.  Many people just believe what they are told or taught by the people they've been brought up to trust.
You do not have to rely on the Pope, the priest, or even your pastor as if they are the only ones who know the truth. God gave his words to the common man and its time you read them, memorize them, study them…love them.
Don't just listen to your leaders and do as they say – take what they are saying and compare it to the Words of God. If what they are teaching you isn't lining up with sound doctrine from scripture then you may need to consider leaving that church.
My husband and I have been working on a post or two confronting many false teachings found in many popular churches. You really can and need to know if what your church teaches is true or false. Afterall, YOU are going to stand before God one day and what will your excuse be? Because God has given you His Word to check all these things our yourself.
And you can know the truth by doing as the Bereans did in Acts 17:11 –
"These were more noble than those in Thessalonica, in that they received the word with all readiness of mind, and searched the scriptures daily, whether those things were so."
-Stay tuned for that post coming up soon.
The following two tabs change content below.
Owner/Editor
at
Hall of Fame Moms
I like what Annie Oakley said, " For me, sitting still is harder than any kind of work." My days are filled with blogging, homeschooling, Jesus and coffee. (PR friendly)
Latest posts by Tracy Zdelar (see all)