Did you know that Ohio has been home to eight United States Presidents? Canton, Ohio (specifically) has been home to one of those eight: William McKinley.
This Saturday, January 28th, is McKinley Day in honor of  the late President William McKinley. President McKinley was the 25th President of the United States of America.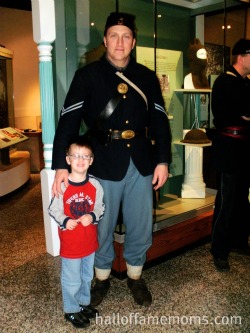 Time: 9-4pm
Specials:  Open Hearth Cooking Demo with Samples, Re-enactments & more! Planetarium shows also. See all details here.
Admission:  $5
*Ask about their Family Memberships. I think they are around $50 for one year and includes the science museum reciprocal program where you will get FREE or discounted admission into many other Science Museums in the USA and beyond. But ask first to be sure my info is up-to-date 😉
A peek into Discover World & McKinley Museum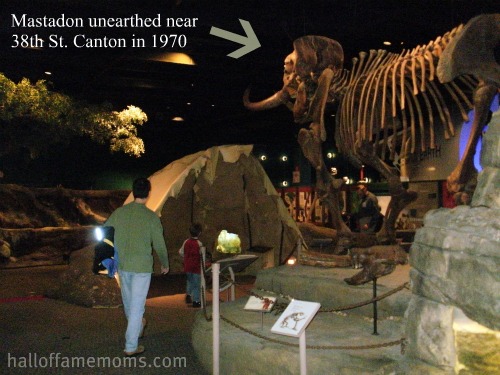 Our family has enjoyed numerous visits to the McKinley Monument & Discover World /McKinley Museum (all on the grounds).
As you'll see in the video below, the kids enjoy sliding on their bums down the "rails" of the monument steps. At the top of the monument, inside the dome lie the bodies of both President McKinley and his wife Ida and their two daughters who sadly died at very very young ages are interred in the wall.
There is a science level where everyone can interact with different activities, real-life living animals and critters to check out, fossil-archeological discoveries & education about our part of Ohio. See my note about that Mastodon in the picture? There's also info about the Nobles Pond area. And another level that has been constructed to look like an old fashioned street with businesses, fire station with pole to slide down and other educational set ups.
Jobs & Volunteer Opportunities at McKinley
The McKinley Museum has one or more part-time job openings available and is looking for volunteers. Contact Lynette at the Museum with your interest. Click here for job information.
*They also might still be looking for a zoology student or someone with that kind of experience to work with the live animals in-house.
The following two tabs change content below.
Owner/Editor
at
Hall of Fame Moms
Tracy writes about family life and travel here on her blog Hall of Fame Moms and has been interviewed on Ohio Podcast, local radio and Prepper Chicks. Find more info on her About Page.
Latest posts by Tracy Zdelar (see all)