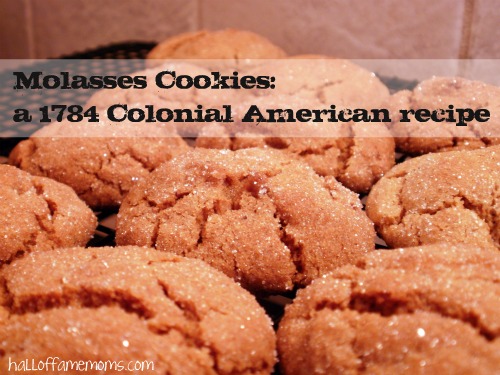 Oh, my goodness- these are delish! I would rank them higher on the yummy scale over the Applejacks and those were good too.
I ran out of butter so I substituted the rest with Coconut Oil. I also substituted the Allspice with Pumpkin Pie Spice, I couldn't find any Allspice in my cupboard.
These do not take long to make. I even started with cold butter, yes, for some reason I thought I didn't need it to be room-temp so my wet mixture was lumpy and piece-y. That did not hurt anything as far as I could tell. My dough was perfect for rolling into balls, roll the balls in the sugar and place on your pan or stoneware.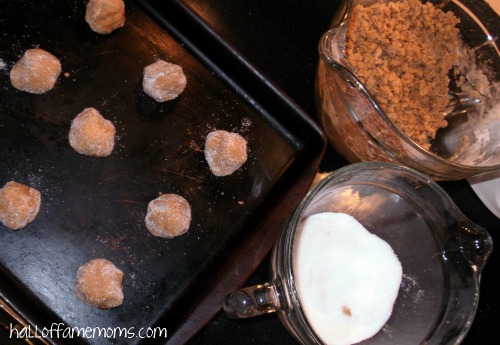 1784: Colonial Day Molasses Cookie
Ingredients:
3/4 cup butter, softened
1  egg
1/4 cup molasses
2 cups flour
1 cup sugar
1 tsp. baking soda
1 tsp. baking powder
1 tsp. ground cinnamon
1 tsp. ground ginger
1 tsp. ground nutmeg
1/4 tsp.ground cloves
1/4 tsp. allspice
1/2 cup sugar for rolling
Directions:
Preheat oven to 375 degrees. In large bowl, beat butter, egg and molasses together.
In separate bowl, combine flour, sugar, baking soda, baking powder, cinnamon , ginger, nutmeg, cloves, and allspice.
Add dry ingredients to butter mixture and beat till smooth and well combined. Form dough into 1-inch balls (about size of a walnut). Roll in granulated sugar.
Bake at 375 degrees for 9-11 minutes or till done. Cool on wire racks.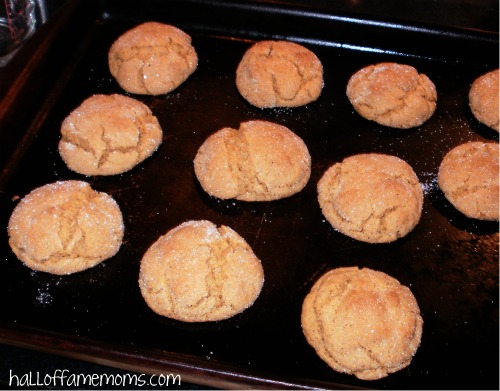 Mmm-mmmmmm 😉  They were nice and soft but after a day or so in a plastic container they started getting hard so if you want to keep them soft I'd recommend putting a piece of bread in there. That usually works for me.
If you make any of the 1784 Colonial American cookie recipes I've shared please come back and leave me a comment here at the blog. I'd love to hear!
1784 Cookie Recipes:
Pine Tree Shillings (I haven't made these yet)
The following two tabs change content below.
Owner/Editor
at
Hall of Fame Moms
I like what Annie Oakley said, " For me, sitting still is harder than any kind of work." My days are filled with blogging, homeschooling, Jesus and coffee. (PR friendly)
Latest posts by Tracy Zdelar (see all)