Even though we don't have a large family there are times when l buy in bulk to freeze. It's really easy to separate food into smaller sections using smaller freezers bags. I'm going to share some of my tips.
I may earn a few cents when purchases are made through my affiliate links in this post but at no cost to you. Thank you for your support.
How to Freeze Bulk Food and Broth
You're going to need some supplies to freeze your food so it won't spoil. I use plastic bags with the zipping feature as well as some plastic containers like these because I have them but this kind is probably better.  I even reuse ice cream containers.
My favorite bags are Hefty or Ziplock. I prefer a brand names for certain products as I've not always had good luck with cheaper brands, generally speaking.
In this post I'm breaking down bulk meatballs and cheese into smaller portions. Doing so helps reduce the chance of wasting food as we'll pull out what we need as we need it.
I can allow it to thaw slowly in the fridge or if I want to use it that day I will probably set it out on the counter till I'm ready to use it.  Always be cautious with thawing out meat as you don't want it to go bad.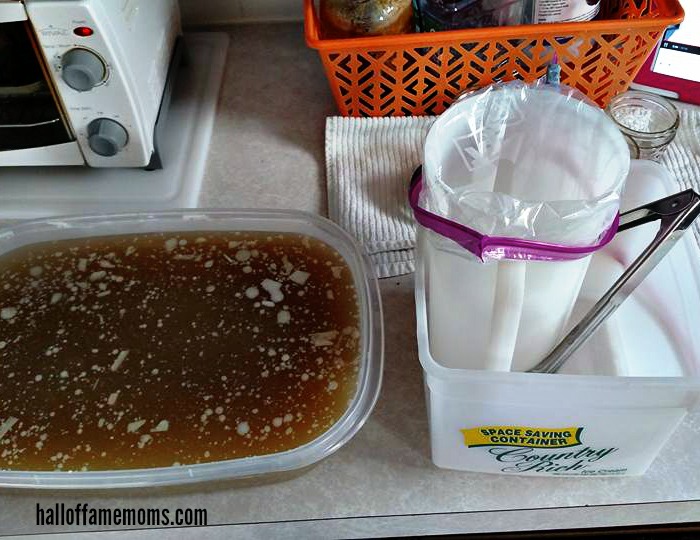 A simple trick I've used for freezing broth is to place a large plastic baggie inside a (approx. 2 quart) pitcher like you see pictured above.
I then pour the broth into the baggie and then I can lay it flat to freeze in my freezer. Use a gallon size for a large amount and a quart size freezer bag for a smaller portion.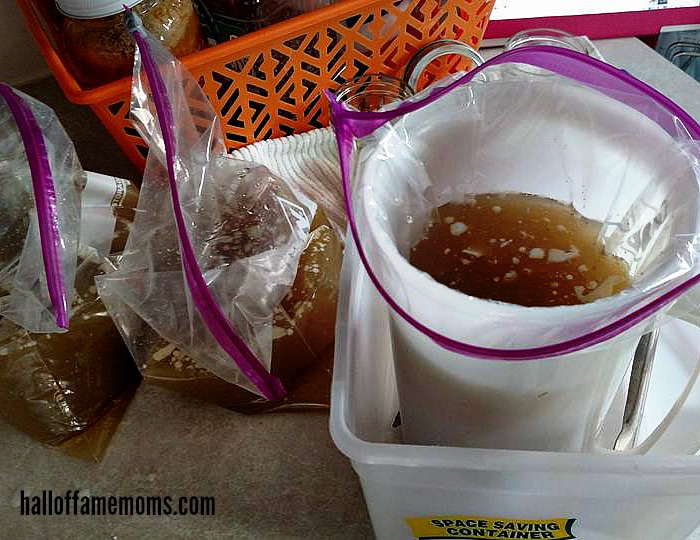 Read about diet-friendly freezer cooking here and how I stretched a roast.
Save
The following two tabs change content below.
Owner/Editor
at
Hall of Fame Moms
Tracy writes about family life and travel on both her blogs: Hall of Fame Moms and 1000 Things Ohio; has been interviewed on Ohio Podcast, local radio and Prepper Chicks. Find more info on her About Page.
Latest posts by Tracy Zdelar (see all)