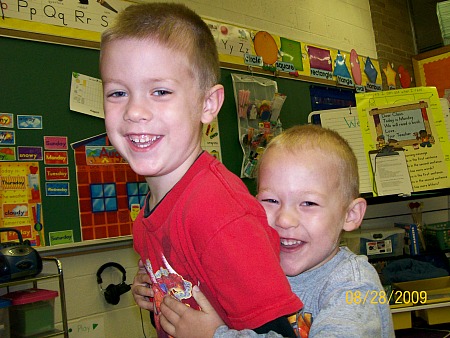 I decided about a week ago to start using charts to help my boys with learning good habits, responsibility and good behavior. My boys are 5 and 3 years old. I did find some "free" printable charts online I'd like to share with you.
I will add that this system has really had a positive effect on my 5 year old…the 3 year old, well, he likes to copy his brother so its okay with him- except he thinks coloring in the blocks is too much work! I also have stickers, etc.. if they want instead of coloring.
I assigned each boy a folder (the 10cent kind with pockets and prongs inside that you'd find on sale in the back to school season). Inside they have three main charts.
First, I use this basic block style chart I found here at Simplemom.net to fill in basic daily chores like brushing teeth, picking up toys, helping mom and dad, staying in bed at night…etc..
Second, I use this cute character chart with two separate sections I found at another site found here to list current/future issues the kids' need to work on…I picked out Arthur and Bob the Builder. Here I list issues that may get moved to the daily chart eventually.
Third, I use this cute chart that focuses on ONE single objective. Each day (doesn't have to be consecutive) each boy does well enough (doesn't have to be perfect) on THAT one goal he gets to fill in one spot which leads closer to an earned prize! I picked out the frog chart for my 3 year old and the bike path for my oldest.
I do find that I need to remind my boys about the chart and help them learn these goals. I noticed yesterday I didn't tell them to brush their teeth in the morning and they didn't seem to remember. Sometimes when I tell them to pick up their toys or clean up their mess they think its too big of a job for themselves to do alone. I can see they need my example, working alongside them. Keep that in mind too.
And something else I realized…I need this chart-exercise for them as well because it keeps me accountable for teaching them things they need to learn at home.  My job is to prepare them to be able to live without "mom and dad" someday.  It all starts with the simple things like…brushing their own teeth and learning how to treat each other right.
**If you find these charts don't work for you feel free to search for more "free printable chore charts".  But, before you do…I recommend signing up for FREE with Swagbucks…do your search through their engine so you can start racking up Swagbuck points with which you will redeem for gift cards or maybe money! Its a great way to pay nothing out of pocket while you get to start earning freely…cover birthdays or Christmas this way!
The following two tabs change content below.
Owner/Editor
at
Hall of Fame Moms
Tracy writes about homeschooling and just about anything related to family life in Ohio here on the blog. Strong honest views will surface from time to time on topics related to truth, faith and freedom. **Check out my notebooks and Bible Memory Coloring Notebook workbooks for Adults & Teens by clicking my name.
Latest posts by Tracy Zdelar (see all)