Well, we were able to fit in one short, fast mini-vacation this summer just before school starts. Our oldest will be in kindergarten this year 🙂  So we went to the Columbus area (Ohio) which isn't all that far from where we are in Canton.
We were fortunate to be able to stay overnight with family down there and visit with them in between the plans we had for our own family. And I will add, it was much more enjoyable staying with them, I think, than staying in a nice hotel room. Our boys had their cousins to play with (and of course all their toys too), we had other adults to converse with and a free room! Can't beat that, right?! And it was my neices' birthday open house party too. Happy Birthday, Maia!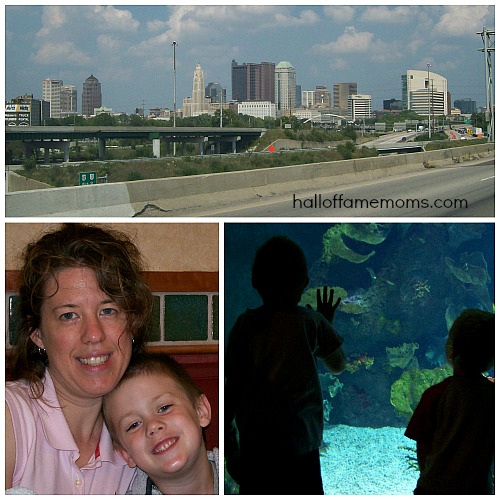 So we visited the Columbus Zoo and Aquarium…and it was a hot day! But we had a good time, not to mention the timing was great! I saw online that it was Teddy Bear Safari day and if the boys brought their bears they'd get free admission. That saved us $14.00 total! Whoo-hoo! We likey-that.  Note to self: Always, always! check the website for special deals before leaving the house.
I had thought to get a family zoo membership somewhere so we could go to different zoos more frequently for free or discounted but… a FaceBook friend told me about a place that we could have gotten BOTH zoo and science museum memberships together for  less than we would have paid to get them separately.  If you are looking for the best deal in memberships you can check to see if this is for you or not at Boonshoft. I'm not sure what the rate is and since I'm not buying one right now, I don't care too much. But you might!
We had already purchased the museum family membership from the McKinley Museum (about $49) and that gets us into many museums around the US and some in other countries (not that we will be going there) for free or perhaps discounted.  And that got us into Cosi for free this past weekend as well. These memberships more than pay for themselves if you like to visit them often.
We had been to this zoo before but we had never been to Cosi. That is another fun place to go. Very hands on, see Jack holding up the moon 😉 There were gadgets and fun things, a big "little" kids section complete with water play, an Egyptian room, complete with (real) mummy,and a (fake) camel. You could ride a unicycle across a high-wire, yes, visitors could do this. And so much more. We didn't even see it all.
I also got to go shopping at Krogers and Trader Joe's! Am I sad or what? I found this actually made the trip an extra joy for ME! Just call me "pathetic".  It was a whirlwind short mini-vacation, but it was fun. We got to do some new things and see some family.
The following two tabs change content below.
Owner/Editor
at
Hall of Fame Moms
Tracy writes about homeschooling and just about anything related to family life in Ohio here on the blog. Strong honest views will surface from time to time on topics related to truth, faith and freedom. **Check out my notebooks and Bible Memory Coloring Notebook workbooks for Adults & Teens by clicking my name.
Latest posts by Tracy Zdelar (see all)