I don't ever recall having heard about Uppercase Living until Ashley Varga, a rep from Uppercase Living, contacted me about reviewing the vinyl expressions  this company sells. The timing was perfect for me as I was in the middle of not knowing what to do with some of my wall space.  Uppercase Living had a perfect answer for one of my walls.  Ashley let me choose and sent me this expression to apply to my wall and I just love it. My husband likes it to. Upper Case has a thick catalog of  lots of expressions you can use not only on your walls but on glass  and smaller projects as well. Their website has video tutorials that are actually enjoyable to watch.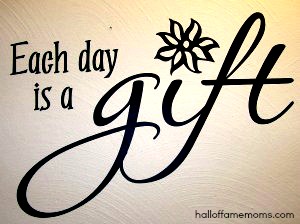 I have a narrow hallway and I was stumped about how to hang pictures. I wanted a look that made sense and was appealing. I picked out this expression and applied it to the center of the wall. I really like this expression "Each Day is a Gift".  Isn't it the truth! I plan to hang pictures around it. In fact I've already started.
I just love this decorating idea! And they are running a buy 2 get 1 free special! I'll tell you more about that in a bit.  But when you get yours, just be sure to follow the directions! There were a few times where the expression was sticking more to the paper than to my wall but it all worked out. Just follow the directions.  I think I had used soapy water to wash my wall and I shouldn't have (think I forgot). My wall is plaster with trowling. It has these rainbow shaped lines in it basically so its textured. I don't know if that was part of my problem in some spots  but once I got it on there (and its not hard)…I just applied more pressure to it.  Don't get it wet. Anyways…watch the video tutorials. They are short and easy to watch.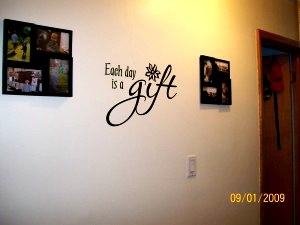 Back to the special they are having.  You still have time, its been going on for awhile but between now and September 10th  you can buy any two items and get an additional item of equal or lesser value FREE.  And they are affordable…I've seen prices for $9.95 and up… I think I saw something about custom expressions where you pay per letter too. They have a really nice idea catalog for Fall/Winter 2009. I was also surprised to find out Ashley isn't far from me. I think she said she saw my website listed on TuscMom.com so she can do a home show if I choose to go that route.
You can find out more about Uppercase Living by clicking here. Ashley also has a Fan Page on Facebook: Uppercase Living-Ashley Varga if you'd like to get updates there from her. Also note, her link/page on Uppercase Living is http://www.varga.uppercaseliving.net/Home.m  and must be typed in that way. Ashley also had this to share with me …
"on Sept. 15th we launch the Photo Prints line.  You upload any photo (high resolution) and we print it on vinyl that is removable and reusable.  The smallest is 2 feet x 2 feet, and they look really neat.   Something to keep in mind.  I also have a facebook page that updates the current specials and I have some new Uppercase photos on there-Uppercase Living Ashley Varga…".
Well, I don't know about you, but I'm going to be looking into this some more. And Christmas is coming!
The following two tabs change content below.
Owner/Editor
at
Hall of Fame Moms
Tracy writes about homeschooling and just about anything related to family life in Ohio here on the blog. Strong honest views will surface from time to time on topics related to truth, faith and freedom. **Check out my notebooks and Bible Memory Coloring Notebook workbooks for Adults & Teens by clicking my name.
Latest posts by Tracy Zdelar (see all)