I shared sometime back that I would share a post about our "dry ice" experiment.  We had received a box of  Holey Donuts to review and they were packed in dry ice. We had some fun with it and here are some pictures. All I can say about what we learned was – "the obvious".  Dry ice in water produces that foamy steam.  We played with a few pieces…and I put the rest back into the freezer. For later. Well, that was my idea. But…
After being in the freezer for a matter of hours or days it had pretty much disappeared.  How disappointing!  I was saving that for future fun with my boys. Oh well, we got to see what happens to dry ice when put in water and my oldest realized that dry ice hurts when you touch it.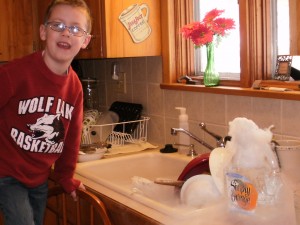 Hey this would make a good project for homeschooling! I'll have to do a search of where I can find dry ice locally. Click here to read my review on Holey Donuts- they're  yummy and better for ya!