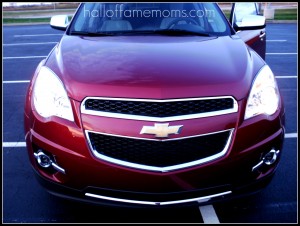 You know by now Chevrolet gave me a 2010 Chevy Equinox (SUV) to drive to The Relevant Conference in Harrisburg, PA this past weekend. Both of our vehicles are older and it was a relief not to have to take the one my husband thought was "safest" for the trip and have to leave him the other to drive the boys around in (which by the way, spent the weekend in the shop for some expensive repairs ;(
So, without further-ado, let me tell you about my ride –  in a nutshell…
…Wonderful!
Smooth ride, On-Star, navigation, HEATED SEATS, dvd player, dvd screens in front and behind each front seat (driver's screen shuts down when driving),  in "reverse" mode a camera shows me whats behind me on the dvd screen, AM-FM-XM music choices, roomy trunk with a pullover- extension to cover whats in there, tinted back seat windows, easy temperature settings, great sound system… What more is there!
Well, it was beautiful too 😉
Thank you, thank you! Connie Burke and Chevrolet for giving me the privilege of driving one of your sweet SUV's. Here are a few more "professional/official" stats on the vehicle I drove to the conference.
2010 Equinox  FWD LTZ
2009 Top Safety Pick Award from the Insurance Institute for Highway Safety
EPA Fuel Economy Estimates:  City mpg 22 and Highway mpg 32. Estimated Annual Fuel Cost: $1,502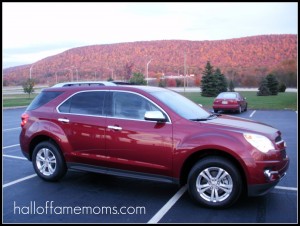 Bluetooth for phone.
Compass.
Leather wrapped steering wheel with audio controls.
2.4L 4 cyl, DOHC SIDI Engine
6 speed Automatic Transmission
…and more!
One thing I appreciated is seeing on the screen WHEN the next travel plaza was coming up! I could then decide if I wanted to stop or wait for the next one. If you'd like to see the inside of my sweet ride (which the delivery guys have already picked up and taken away) I also have uploaded a video on Youtube of the inside of my "ride" you can view.
So, thank you again, Chevrolet!
*Subscribe here to get my blog posts delivered by email or RSS!  Follow me on Facebook and Twitter too 😉 Stay tuned as I talk about my other two sponsors in future posts.