*This is a local guest post by Brandi Adamski, member of the Canton Audubon Society in Stark County, Ohio.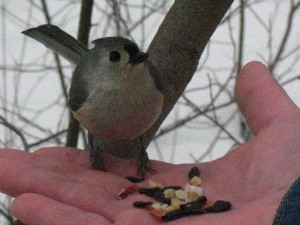 I'm here to talk about birds and winter bird activities.  Why?  Well, besides being part of the Canton Audubon Society, I love all things nature as most of you do.  We go on walks through parks to smell the fallen leaves and let go of our everyday stresses.  Something about being outside allows our bodies to release the tension that builds up while we are within walls and ceilings, but there is another aspect that we all hold while on our walks; we want to see wildlife, an animal, something that lives out among the trees and dirt.  We may see squirrels, chipmunks, rabbits, the occasional raccoon, deer, turtle and numerous insects, beneficial and annoying, but there's probably rarely a day that we don't see birds.
We see birds so often it's possible that we tune them out as we would nearby traffic.  Birds may be the most numerous creature (besides insects) that we encounter on a daily basis and it's time to refresh your awareness as each season brings something new.  Since birds can easily escape a scary situation by simply flapping their wings to fly away, we have to know how to behave around them.  With this in mind, wild birds can not only educate children about predators, prey, behavior and bird anatomy, they can also educate kids by teaching them to respect wildlife.  Are you ready to take notice?  Are you ready to utilize winter instead of hiding from it?  Are you ready to share this with your children?
Here are some great (low-cost) bird activities you can do with your family this winter in your own backyard or just beyond.
1. Bird Feeders! One way to take advantage of the easy nature of wild birds is to get a bird feeder.  No, the bird feeder isn't free, but enticing birds to your yard can provide a ton of free entertainment.  An alternative to a bird feeder is to collect some pinecones, cover with peanut butter and roll in birdseed.  This is a great activity for kids of all ages.  Simply hang and enjoy.
2. Feed chickadees out of the palm of your hand! on the weekends in January and February at Beech Creek Botanical Garden and Nature Preserve.   Volunteers provide bird seed and instructions on how to entice the small birds to eat from your hand.  It takes patience, but some of the children were more successful than I was last year, so do not rule out kids; some were as young as five.  With a little seed and steady pose, chickadees landed on our hands, gripping their delicate claw around a finger, and pecked at the food.  We even had a hungry, small, grey titmouse. It was an amazing experience.
Afterward, sit by the fire to warm up and enjoy a complimentary hot drink.
Tips: dress for the weather, remind children that rowdiness and screaming will scare away the birds, go to the bathroom before walking down the ¼ mile path to the bridge and bring your camera!
3. Visit The Wilderness Center in Wilmot! It  has a permanent viewing area for their outdoor bird feeders (warm and cozy inside). The last time I was there in the fall I saw well over 20 birds such as goldfinches, woodpeckers, cardinals and nuthatches.  While you observe the activity, you can look up the names of the birds and browse a collection of bird books they provide.
Of course, the bird viewing is only one of a few activities the Wilderness Center has to offer as their building is truly kid-friendly.
4. Stark Parks also has a list of free (family) birding events! that include: Winter Bird Watching, Waterfowl Identification, Birding 101, Great Backyard Bird Count and many more.
If you haven't checked out the Stark Parks calendar and programs, you are missing out on a super-quality educational experience.  Most programs are free and their Little Explorers program targets pre-schoolers.  Exploration Gateway (the Perry Library) is a fantastic library and educational center.
Brandi says…" Don't forget to "Like" Canton Audubon Society on Facebook.  I will be posting bird and nature-related, facts, tips and events around town. Visit our website for more information about the Canton Audubon Society."
*And be sure to subscribe here to receive Hall of Fame Moms updates by email or RSS!