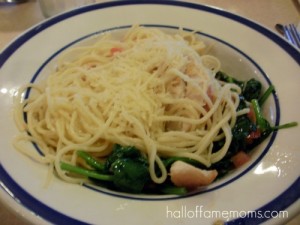 Did you know Bob Evan's Restaurants has a "healthier" for you menu in addition to their regular good old down-on-the farm menu?
Well, they do and its called Fit From the Farm. I received a Fit From the Farm kit including a coupon for one free meal to try out and report on.  There is a decent selection of items to choose from including a couple different meal options where you get to pick and choose what you want. Choose from a breakfast, lunch or dinner selection.
I was torn between taking advantage of  my "free" meal by picking one of the dinner options like the salmon, broccoli and baked potato or the potato-crusted flounder and then there was a chicken option. I wanted to go for something with a lot of flavor though so I picked the Chicken, Spinach and Tomato Pasta.
The picture above is how the dish looked when it came to the table. I took a picture of my choice after I mixed everything up but that pic came out blurry so I'm not posting it- but this was a good choice and perfect size for me.
I was full enough without being too full. Usually I can't eat all my meal when we go out but this dish came in the "savorful" size.  A good choice if you don't want to be tempted to eat too much and only cost $5.99 here in Canton, Ohio.
Now, this menu is great for eating healthier (see all the possibilities at the Bob Evans website), dieting, etc.. But I'm not on a diet (though I would love to lose 10 pounds). I did find myself eyeballing (and helping myself to) some of  my family's food …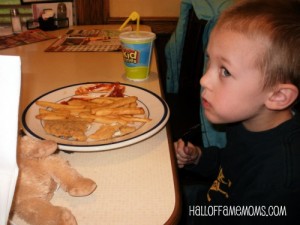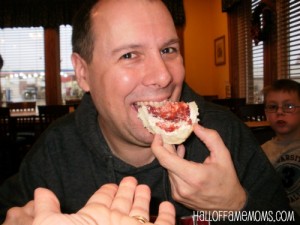 Yes, mommy had some of Jack's chicken fingers and some of Joel's biscuit! Apparently, I needed a little extra fat and calories that day 😉 (It was all good!)
And one of you will get to win a Bob Evan's Fit From The Farm prize package worth approximately $30 – you'll receive everything I did.

A very nice water bottle,
a pedometer
magnetic dry erase menu planner and
coupon for a FREE Fit From The Farm meal at Bob Evan's Restaurant!
How to win-MANDATORY: Do one of these… or if you already are current with me on these leave a comment telling you are… You must be honest. If I check and you are not doing as you said, you are disqualified.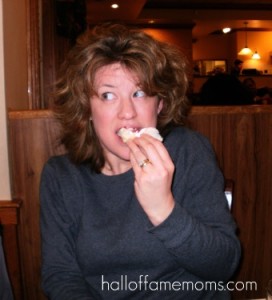 #1- Subscribe here for my email or RSS updates and then leave a comment HERE telling me you've done so.
#2- Like Hall of Fame Moms on Facebook and then leave a comment HERE telling me you've done so.
#3- Follow me on Twitter here and then leave a comment HERE telling me you've done so.
Contest begins today and ends January 11, 2010 at 11:59pm. Winner to be drawn by Random.org.
Disclosure: I received my Fit From The Farm Kit for free in accordance with this review. Its the exact same prize pack my winner will receive 😉