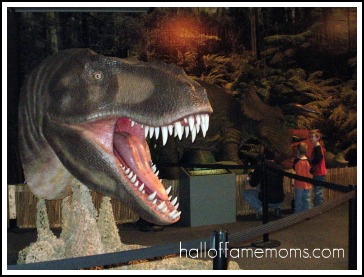 The Columbus, Ohio Cosi has been one of our family's favorite places to visit. I've talked about our visits before in this post and here's a video of my husband riding the high-wire unicycle at Cosi.
The reason we can afford to go to Cosi often is because we have an awesome affordable reciprocal (Zoo & Science Museum) family membership through CuriOdyssey. If you are looking for the family membership that has the most bang for your buck, this is the best I'm aware of and I plan to renew when ours expires. I homeschool too and love the option of going on many field trips!
………………………
On to Cosi! Cosi in Columbus has a new "Dinosaurs: Explore. Escape. Survive." Exhibit that opened May 28th and ends September 5, 2011. My family and I were invited to attend a special Blogger's Preview of this exhibit this past Wednesday. We had a great day exploring the new exhibit which includes many educational and hands-on opportunities.
I share several pics in this handy little image viewer by Image Loop (including real-life fossilized dinosaur egg and poop. It saves me time posting a bunch of pictures and its probably a little bit more fun to watch.  In addition to what you'll see in the slide show, Dinosaurs includes a Maze, climbing wall, a pretend fossil dig, and many interactive stations to design a dinosaur (computer program) and to "be" the dinosaur.
We spent quite a bit of time in the Dinosaurs exhibit "being" dinosaurs, designing dinosaurs, doing the hand's on activities and watching the dinosaur animatronics (I think thats what they are 🙂 ).  Some of the dinosaurs move –not as in walking around but heads moving, etc.. There is a small Dinosaur Store at the back end of the exhibit also.
The tickets in this giveaway are only good for the Columbus, Ohio Cosi Center of Science and Industry is located at 333 West Broad St., Columbus, Ohio 43215

I have 2 sets of 4 tickets to giveaway!

Each set of 4 tickets will get 4 people in to see

the Dinsaurs Exhibit,

also to see the Waking the T.Rex 3D: The Story of SUE movie,

AND general admission to all Cosi's permanent exhibits for the day!
How to win! 2 winners will receive 4 tickets each.

MANDATORY: To enter just leave a comment below telling me why you'd like to win.
…………………………………….
EXTRA Entries: If you want to increase your chances to win you can do one or any of the following but you MUST leave a separate comment for each one telling me what you did.
"Like" Hall of Fame Moms on Facebook This giveaway is NOT associated with Facebook.
Follow me on Twitter
Follow me on Google Friend Connect (see link in sidebar)
Subscribe to either my Email or RSS updates.
Giveaway begins today Sunday, June 19th and ends Sunday, July 3rd at 11:59pm EST. Winners picked randomly.
*My family received free admission to the Dinosaur's Exhibit and movie (we watch the Wave instead of the TRex though) as part of this special preview event.