Thank you to Fooz Kids for providing me with an All-In-One pack to review. The opinions I've expressed here are solely my own and represent my honest viewpoint.
I had the opportunity to try out the parental dashboard features for Fooz Kids online site for kids and I do like the options, the overall feel, colors and ease of use- but let's talk about options. This is what makes this site practical!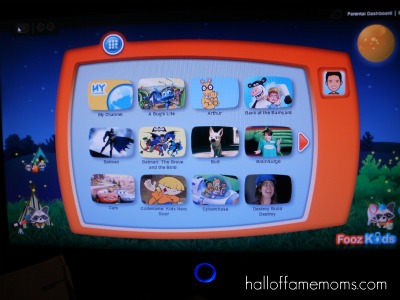 You set up an account for your child, as I did mine, and then you can check or uncheck the games that you want him or her to have access to. The site also boasts –No Adware/No Spyware- 100% Safe. I really like that. You do have to download Fooz Kids to your computer.
You can also invite your child's "in real life" friends to communicate with him/her within Fooz Kids. [Your child will have an email account that you have access to.]
You can choose what games, video, and websites outside of Fooz that you want to save to your child's account for his easy viewing. I chose a couple of our home YouTube videos and added the game sites for Lego's and PBSKids for my son.
You can monitor his internet activity. Ads, links, and scripts are also blocked from your child's viewing.
Your child can print out his creative works.
There is also Fooz Kids University and report cards. I haven't used that part yet but this could be great for homeschoolers I think or parent's who just want to know how their child is doing on educational games.
I had only opened an account for one of my sons but both my boys were trying out Fooz and maybe fighting a little over taking turns. I checked the FAQ and saw that I can add more accounts for additional children so now they won't have to fight.
I can see that one of my favorite features is going to be the email account Fooz Kids includes for my child so he can email me (the parent).  I was just exploring that tonight. He can draw/paint online a picture for me and email it to my Fooz Kids Parent webmail account. I love that feature and will be showing my 5 year old how to "email" me tomorrow 😉
Please click here to learn more about Fooz Kids. I was selected for this sponsorship by the Clever Girls Collective. All opinions are my own. #cleverfooz