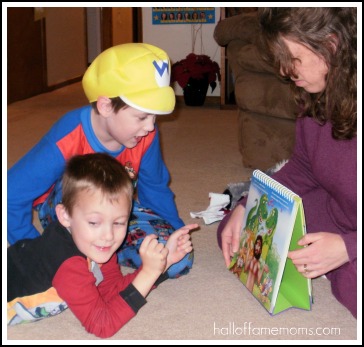 "A" is for Adam: the Gospel from Genesis.
I recently received this book to review and am happy to share that it will take you and your child A – Z through the great news of the gospel focusing on biblical events from the book of Genesis. This book is spiral bound, stands up as a flip-the-page type of book written by Ken and Mally Ham (Ken Ham of Answers in Genesis). The book is beautifully illustrated by Jeff Albrecht.

There are additional activities and suggestions shared for using this book beyond just reading it. Not only does this book make an excellent devotional tool to use in your home, but you could use "A" is for Adam in your homeschooling or as a teaching tool for a Sunday School class.
Here's a snippet of the text…
"A is for Adam; God made him from dust. He wasn't a monkey, he looked just like us. Although some scientists don't think it was so, It was God who was there, and He ought to know." …

"P is for Plan, which God always had, Because he knew man, would turn very bad. A few thousand years later, God's Son came to be, A wonderful Savior for you and for me." …

"Z is for Zip, so quick it will be, When Jesus Comes back for you and for me. If our name is found in the "Lamb's Book of Life," We'll sure live forever in a place with no strife." …
This book walks your child through the Gospel and you could very possibly lead your child to saving faith in Jesus Christ- at the very least you are teaching your child God's truth and planting a seed.
1.   With every alphabet letter there is a page with instructions or suggestions for you, the parent. For example, I'm looking at the "Z is for Zip" page to parents and it gives me a "Starting Point:  God has always wanted to be part of our lives. From the time of Adam or Noah or the Tower of Babel, God has wanted to save people from sin. God loves you and wants to be a part of your life too!"
2.   Then you have "Bible Bits", a "Let's Talk!" to check your child's understanding of the teaching, an "Always Remember" section to reaffirm an important point the lesson is teaching, and "Stuff To Do"… such as words to write down or have your child draw a picture of, then a "Quick Review", three questions from the "Z" page.
3.   There are several additional pages at the end with more helpful information such as sharing the "Seven C's of History: Creation, Corruption, Catastrophe, Confusion, Christ, Cross and Consummation", The Armor of God and more.
"A" is for Adam
84 pages/Casebound.   Retails: $16.99 … but here's your chance to win one or at least save 25% off a copy!

Join our Master Books Twitter party on Tuesday December 13th (2pm Central/ 3pm EST) and you could end of up winning  a free copy for yourself!

Be sure to follow @masterbooks4u and use hashtag #teachthetruth and follow all of us too, the Master Book Mom Reviewers (each link is listed below!).
If you don't want to join the Twitter party you can save 25% off "A" is for Adam beginning December 13th 2pm CST (when our party starts) through December 16th!
NOTE: Our party will NOT be three days long 😉 – the party may only be a half hour long! Just didn't want ya thinking we were partying on Twitter till the 16th.
Here we are! The Mom's of Master Books…
@tzdelar (me)
*I received the "A" is for Adam book freely from Master Books to review as a participant in the Mom's of Master Books Reviewer program. Opinions are my own.

The following two tabs change content below.
Owner/Editor
at
Hall of Fame Moms
Tracy writes about homeschooling and just about anything related to family life in Ohio here on the blog. Strong honest views will surface from time to time on topics related to truth, faith and freedom. **Check out my notebooks and Bible Memory Coloring Notebook workbooks for Adults & Teens by clicking my name.
Latest posts by Tracy Zdelar (see all)