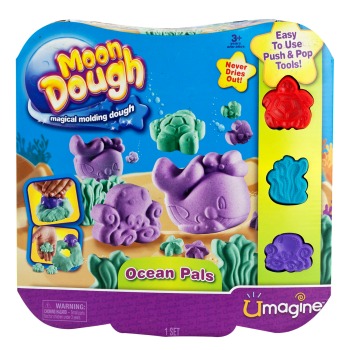 We recently received the Moon Dough Ocean Pals kit to review. This was our first time owning Moon Dough. Its very different from other types of dough we've played with in the past.
This dough is very soft, reminds me of styrofoam sort-of, is crumbly but then adheres to make a smooth surface easily. Moon Dough claims to not dry out – its already dry. The fun part is using the push 'n pop Ocean Pals cutters. This kit comes with purple and green Moon Dough, 3 Ocean Pals push 'n pop cutters, a mold, and a background ocean scene to add your creature creations to.
I also found it easy to vacuum up the little pieces that fell onto the carpet.
Some of the other Moon Dough kits include:
Moon Dough Snack Shop
Moon Dough Pizza Shop
Moon Dough Puppies
Moon Dough Large Theme Set – Grocery Store
Moon Dough Super Value Pack
Moon Dough Mega Refill Pack
*I received the Moon Dough Ocean Pals kit free to review via Team Mom. Opinions are my own. And I have used my Amazon affiliate links in this post. If you buy through my link I do receive a little bit of money for sharing with you.