Purex has come out with something new again! Purex Ultrapacks laundry detergent (with triple action) available in Mountain Breeze and Free & Clear. Its due to hit the store shelves in February.
I received a sample pack to try out and truly my whites looked bright after using them. It was also super easy with no mess. These Purex Ultrapacks dissolve in the water, just be sure to pick them up with dry hands. Just throw one in after you start the water – but before the clothes go in.  I used my first one in a load of whites and towels and that load looked bright and clean afterwards.
According to the info sheet I received from Purex: With Purex Ultrapacks there's no more spills or lifting heavy jugs. Each Purex Ultrapack contains powerful 2x concentrated liquid detergent, giving each Ultrapack double the cleaning power in every drop as compared to traditional Purex liquid detergent.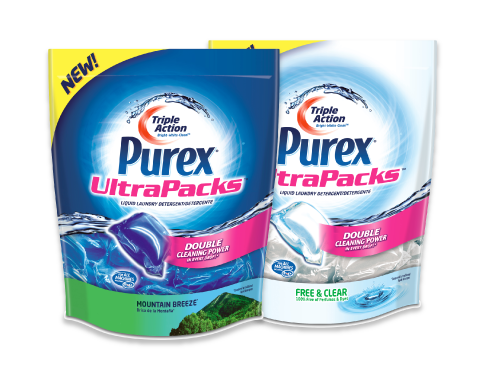 Its true that  I'm a Purex Insider, but truly- I'm a Purex fan and have been using Purex way before I became one of their reviewers. You can read more of my thoughts on Purex here.
*Purex sent me this sample pack of Purex Ultrapacks to review, all opinions are my own.