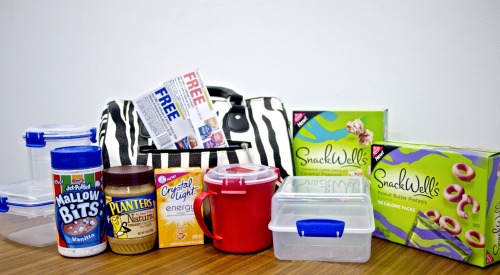 Imagine a day that looks something like this:
8:00am: You've dropped the kids off at school and now it's time for the rest of your busy day to begin. Pop open the laptop for the day's first emails as you enjoy an energy and flavor-packed bowl of peanut butter and oatmeal with PLANTERS new Natural Peanut Butter.
1:00pm: It's past your lunch time. Between publishing today's posts and answering emails, you lost track of time and now you've got places to be. Make a sandwich for the road and give your water some flavor and yourself a boost with CRYSTAL LIGHT Energy On-The-Go Sticks in new Citrus flavor as you run out the door.
3:00pm:  On the way to pick up the kids, you treat yourself to SNACKWELL'S new Peanut Butter Pretzels or new Cinnamon Crème Drizzled Caramel Popcorn.
 3:15pm: You've got the kids and are headed to soccer…and the kids need a snack. Good thing you grabbed new KRAFT MILKBITE Milk & Granola Bars from the fridge before you left the house. They have the calcium of an 8 oz. glass of milk.
 6:00pm: Where did the day go? It's already dinnertime. With six new flavors to choose from, add flavor to the weeknight dish/entrée using new KRAFT FRESH TAKE. And it's easy on you, with 5 minutes of prep time! But save room for dessert and jazz up the kids' ice cream with new JET-PUFFED Mallow Bits in Vanilla.
9:00pm: What a day! Kids are in bed. Kitchen's cleaned up. Your last Tweets have been sent, last emails answered. Now for a little "me time" – enjoy new JET-PUFFED Mallow Bits in Vanilla atop a warm mug of hot cocoa.
Would you like a chance to try all of the aforementioned Kraft food products as well as the Lunch Break Insulated Zebra-Print Lunch Tote and the KLIP-IT by Sistema 14-piece Food-to-Go Storage Set?
I've already tried the Milkbite Milk & Granola Bars in chocolate and they were yummy. You'll find them in the refrigerated section at the store. The tiny marshmallows are great to shake into hot cocoa, we've done it at home too. and the Zebra print insulated lunch tote is really sharp looking 😉 … Just sayin' .
Besides the food items in the picture/post and the Zebra print lunch tote one winner will get the storage set: 1- Soup to-go container with lid, 1- breakfast to-go container with lid, insert, and spoon, 1- salad to-go container with lid, insert dressing tub with lid, knife, and fork and finally, 1- lunch cube to-go container! What a nice prize package!
How to enter to win!
Just leave me a comment below telling me why you'd like to win or what you would do with such a nice prize package. That's it, you're entered!
Want
extra

chances to win?!! Be sure to LEAVE a SEPARATE comment below for each of the following things you have done.
Subscribe here  (and you must confirm all the way through when Feedburner emails you) receive my blog  updates delivered to you by email or RSS. Now leave me a comment telling me.
[Just a note about this, at last check I had maybe 20 or so "partial-subscribers" who appeared to have not confirmed, you must confirm all the way through.]
Follow me on Twitter and leave me a comment telling me you have!
Giveaway begins tonight March 6th and ends March 14th – one winner will be picked randomly.
Giveaway limited to residents of the USA.
*As a Kraft Delicious Byte blogger I received the same prize package as my winner will. This is not a paid post. Kraft is providing the prize. Opinions are my own.