A woman once longed for the extra money

to hire a maid

to help her clean her home.

Then she realized she had many maids:

known as her clothes washer,

dryer,

dishwasher,

vacuum sweeper,

microwave, and crock pot.

~That isn't an exact quote but I did read something to that effect shared by another woman.
Hey, its ladies week here at my blog! You can see whats going to be posted when here, so lets kick this off with some pictures of what kind of life women had way-back-when.
Since the following pictures were taken at the Our House Tavern inn established in 1819 I'm assuming the gadgets you see in the pictures below were probably used during that period in time. Its been awhile since we visited and I'm not sure I remember everything our tour guide said so I'll leave it at that.
First, you may be wondering whats the big deal about the Our House Tavern? Well, you can read about some of that in this post I shared about Napoleon and the last King Louis of France (married to Marie Antoinette).  haven't told you about General Lafayette yet though.
So, see that little building in the back of the inn? Thats the cook's kitchen and we're about to get a peek inside. You can see the front of the building here.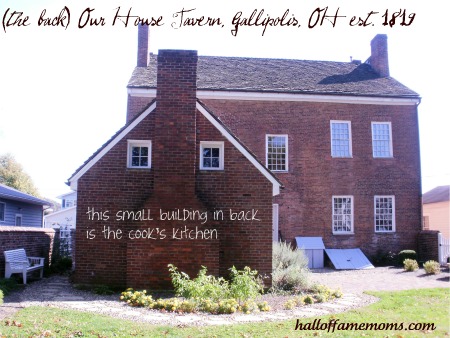 Below: Inside the kitchen.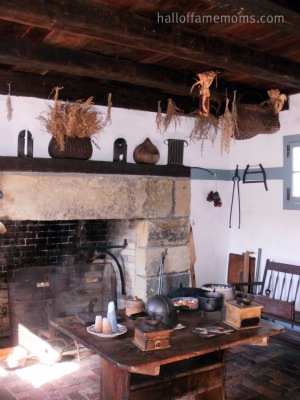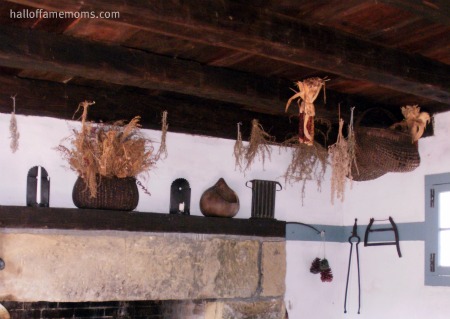 Below on table is a coffee roaster (looks like a silver helmet), that big dark block laying behind the candles I believe is a block of tea (thats how it came long ago), there's a Mammy's Bench on the right.  I believe I read that the cook and nanny were at times jobs held by the same woman. You can see larger images of some of these items and more at the Our House Tavern Facebook Page.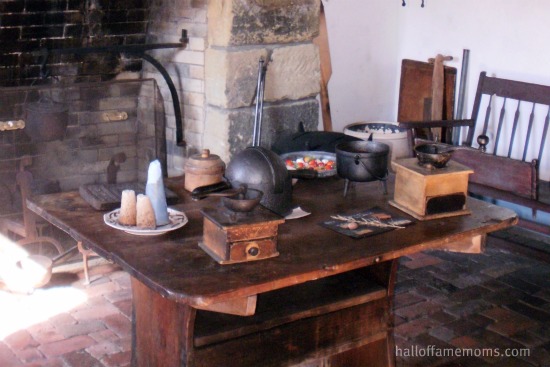 Below: An old fashioned washing machine.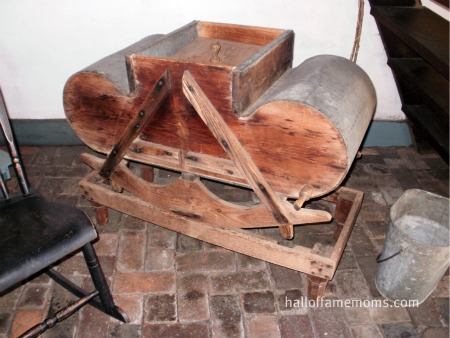 I think this is one of the original chandeliers that existed back in the 1800's here at the Our House Tavern. Pretty cool, don't ya think?  I mean, cool that its still here (and I think they use it). I think it should be called a candlelier 🙂 .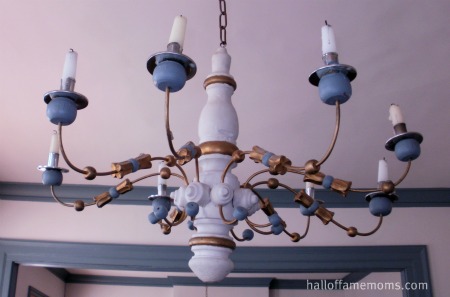 *Though you'll see many images and some fascinating ones at their Facebook page, the images used in my posts are all mine taken during our visit there last fall.
To see the "indoor toilet" ladies had to use in the inn visit my post here and scroll down. It was the first time I could ever remember seeing such a thing.
…………………………………………………………………
Here's a preview of what you're getting in tomorrow's post. I'm so excited to share it because I do believe this information can help some of you find that "work-at-home" solution you've been searching for.
"With the cost of living always on the rise, many stay at home moms are looking for ways to make extra money and ease the strain on their wallet. This can be a very tricky task as for every legitimate work-at-home opportunity out there, there seems to be 5 more that are scams.

I was in this exact situation 3 years ago; right after my second child was born. I went through a gamut of various work-at-home jobs ranging from survey taker to internet evaluator.  All paid very little and were not worth the time I put into them. That's when I decided to start a home business.

I didn't want to sell a product, so instead I offered a service. I gambled on the idea that there was a market of people who either didn't have time or the desire to do their own laundry; it turns I was right. Now at a consistent client base of 10 to 15 accounts, I'm able to make an extra $1,200 a month simply by doing other people's laundry." …

Subscribe here so you don't miss the rest of Amanda's post on how to set up this type of business in your own home!
The following two tabs change content below.
Owner/Editor
at
Hall of Fame Moms
Tracy writes about homeschooling and just about anything related to family life in Ohio here on the blog. Strong honest views will surface from time to time on topics related to truth, faith and freedom. **Check out my notebooks and Bible Memory Coloring Notebook workbooks for Adults & Teens by clicking my name.
Latest posts by Tracy Zdelar (see all)