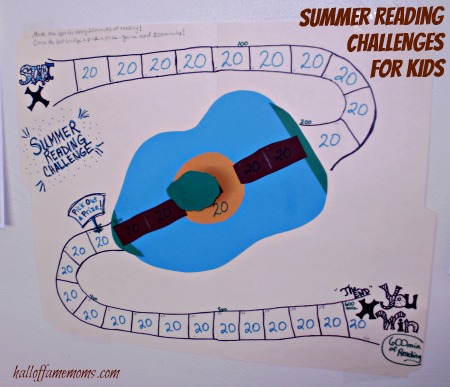 I'm like many other moms: I want to make reading a priority this summer and I want to make it fun for my kids.
I made a game-board looking chart to track their progress (got the idea from this blog). The boys get to move one step for every 20 minutes they spend reading. My 8 yr old can read very well and is a good bit ahead of his 6 year old brother who is still learning to read.
In case you're wondering, that's a lake with an island and a cluster of upright standing palm trees connected by two bridges.
My 6 year old can read a number of words but can't read fluently so I spend time teaching him to read with site words and easy books to reach his 20 minutes. I've also allowed Brendan to read aloud to Jack and let that count as Jack's time also. My goal is to teach Jack to read on his own this summer.
I'm really proud of  my 8 year old, he's really taken off with the challenge. He'll set the timer at bedtime and read away. He finished Henry and Rigsby (192 page book) recently, among other books. He's been working for that half-way point to earn a prize and he's already there! As you'll see below, he's found a comfy spot (I guess) in the toy box to read by flashlight in the dark (my camera flash has lightened up the room).


Stark County Libraries (check your own local libraries too).
Each time my boys check out a book they're given a scratch-off ticket that will either say "Keep Reading" or "Winner". Fill out the info on the back of the ticket and stick it in the box for a chance to win a prize! If you're ticket says "winner" then see the librarian to get your prize. My son Jack recently had a winning ticket at the Perry Sippo Library.
Pro Football Hall of Fame's Reading Challenge.
Pick up a tracking chart from your Stark County library for this. After your child reads 700  minutes (100 min./week for 7 weeks) turn in your card for a chance at prize drawing.
Berean Christian Bookstore's Summer Reading Program rewards kids aged 5-13  in two ways.
Read 8 books to earn a $5 Berean gift card and /or read 15 min. a day in your bible for 50 days to earn a $5 gift card. If you start now you can reach that bible reading goal. Both programs end August 18th, which is Kid's Day. Come in that day with your filled out form to get  your prize(s). See the printable form I linked to  for details. I believe this works for online only customers too!
Barnes & Nobles will reward your child with a free book through their Summer Reading Program. Print out their form and read the details. I think our closest Barnes & Noble is probably a good 45 min. away in the Fairlawn area.
Can you think of any other places in Ohio (national or local) that offer rewarded-reading programs for kids?
*See how I"m planning to stock up on books now for the next home-school year.
**Sharing at these link-ups:  Crystal&Comp , HolySpiritLedHomeschooling .