As a Christian I know not to worry (Philippians 4:6-7), but I do have concerns and my most important concerns are for my children. I'm sure the same is for most, if not all of you with children too.
I'm concerned about unseen yet preventable dangers.  I read the news, I hear the stories. Those things that make a parent wish they had chosen differently…

There's so many decisions we face as parents.  We're responsible for the places we allow our children to go, what we allow them to participate in, and who we allow them to hang out with. We are responsible for shaping their character and teaching them about God and what his will is for them according to his word (the bible).
Who or what am I allowing to be the main influencer in my child's life? As for me, my hope and instruction is found in His Word. I believe the bible. I trust God.
Be encouraged from God's word! He has promised to preserve pure, his word according to Psalm 12:6-7 :

"The words of the Lord are pure words:

as silver tried in a furnace of earth, purified seven times.

Thou shalt keep them, O Lord,

thou shalt preserve them from this generation for ever."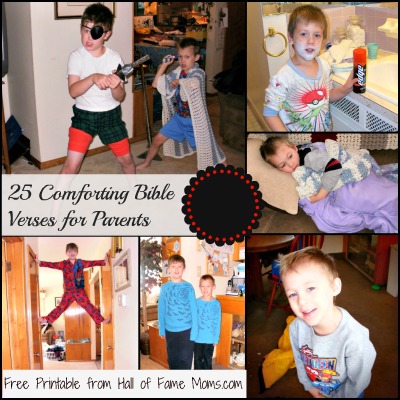 25 comforting Psalms for you & me, as parents:
"It is better to trust in the LORD than to put confidence in man."
"The LORD is nigh unto all them that call upon him, to all that call upon him in truth. He will fulfill the desire of them that fear him: he also will hear their cry, and will save them. The LORD preserveth all them that love him: but all the wicked will he destroy."
"The LORD taketh pleasure in them that fear him, in those that hope in his mercy."
"Search me, O God, and know my heart: try me, and know my thoughts: And see if there be any wicked way in me, and lead me in the way everlasting."
"Cause me to hear thy lovingkindness in the morning; for in thee do I trust: cause me to know the way wherein I should walk; for I lift up my soul unto thee. Deliver me, O LORD, from mine enemies: I flee unto thee to hide me. Teach me to do thy will; for thou art my God: thy spirit is good; lead me into the land of uprightness."
"Except the LORD build the house, they labour in vain that build it: except the LORD keep the city, the watchman waketh but in vain."
"Blessed is every one that feareth the LORD; that walketh in his ways."
"In my distress I cried unto the LORD, and he heard me."
"It is good for me that I have been afflicted; that I might learn they statutes."
"My soul melteth for heaviness: strengthen thou me according unto thy word. Remove from me the way of lying: and grant me thy law graciously. I have chosen the way of truth: thy judgements have I laid before me."
"Wherewithal shall a young man cleanse his way? by taking heed thereto according to thy word. With my whole heart have I sought thee: O let me know wander from thy commandments. Thy word have I hid in mine heart, that I might not sin against thee."  *Just found & corrected 2 spelling typos that will be uncorrected in the printable.
"He maketh the barren woman to keep house, and to be a joyful mother of children. Praise ye the LORD."
"I love the LORD, because he hath heard my voice and my supplications. Because he hath inclined his ear unto me, therefore will I call upon him as long as I live. The sorrows of death compassed me, and the pains of hell gat hold upon me: I found trouble and sorrow. Then called I upon the name of the LORD; O LORD, I beseech thee, deliver my soul. Gracious is the LORD, and righteous; yea, our God is merciful."
*All scriptures from the KJV.
The following two tabs change content below.
Owner/Editor
at
Hall of Fame Moms
Tracy writes about homeschooling and just about anything related to family life in Ohio here on the blog. Strong honest views will surface from time to time on topics related to truth, faith and freedom. **Check out my notebooks and Bible Memory Coloring Notebook workbooks for Adults & Teens by clicking my name.
Latest posts by Tracy Zdelar (see all)