Cottonelle is looking for the perfect "name" to describe their refreshing two-step [paper + wipes] "process" as it pertains to your summer travels. Okay, its hard for me to dance around this topic with flowery words and be sure I'm getting my point across at the same time. I'm talking about butt-wiping here. But we don't want to call it that!
Cottonelle wants to reward one of you for your help in coming up with a better label! So, if you were using the two-step process [paper+wipes] over your summer travels, what would you call it? The example they gave us was the "First Class Double-Pass". So, you can't use that one. You'll have to come up with an idea of your own. I'm thinking I would call it the "Oasis Wipe". 
Don't laugh. Its hard to come up with a creative summer label for wiping one's bum. You try it! I'm sticking with: the "Oasis Wipe". We have plans to visit an indoor waterpark next month and we were just at Cedar Point where it was super-duper hot! I'd say "Oasis Wipe" fits the bill for our summer travel description for this fancy rear-wiping adventure!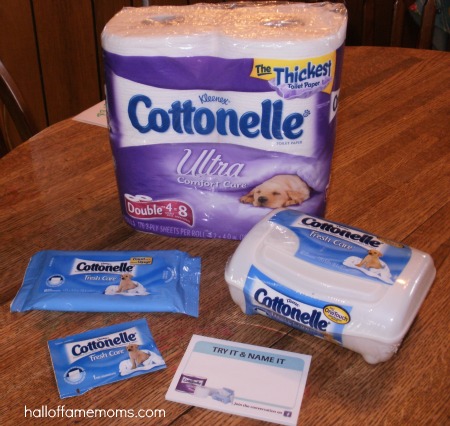 So come up with your own two-part name and enter to win a Clean Care kit just like I received.  I will be picking one random winner from my blog. Follow the Rafflecopter instructions below for several chances to win this Clean Care kit which includes:
1 tub of Cottonelle Flushable moist wipes
1 pack of Cottonelle Ultra Care toilet paper
1 travel pack of moist wipes
1 solo pack of moist wipes
1 pack of Name It post-it notes
But wait, thats not all! Be sure to enter Cottonelle's Facebook Giveaway too! See here for official rules.
On to my giveaway! You'll need this  "Name it" widget below and  follow my instructions carefully as noted in the Rafflecopter section. [Disclosure: I received the same kit and will be compensated for helping them in this "Name it" campaign.]
Thank you again to Cottonelle for sponsoring my post. Visit them on Facebook to share your name! I was selected for participation in this program by the Clever Girls Collective.