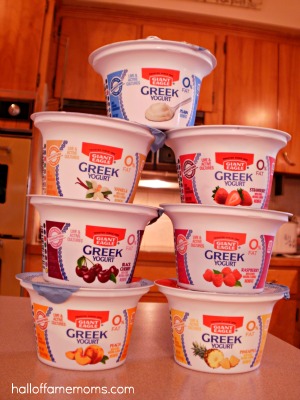 I've tried Greek Yogurt in the past- its definitely got a different feel to it than regular yogurt. I think I had only tried either plain or vanilla from another brand. I do like the health benefits it has over regular yogurt though.
Well, I was contacted by a Giant Eagle representative recently asking me to try their line of Greek Yogurt and to share what my favorite was. I accepted.
"Giant Eagle Greek Yogurt has 0% fat, is gluten free, an excellent source of protein and comes in seven delicious varieties" including: Plain, Vanilla, Raspberry, Black Cherry, Strawberry, Peach and Pineapple. Giant Eagle Greek Yogurt is backed by their "100% satisfaction guarantee or double your money back". Watch for sales – they were 10/$10 recently!
What I discovered!
Before I tell you what my favorites were let me tell you that I discovered that some of these taste very well with party crackers like Ritz and maybe Wheat Thins. I liked the Ritz with the berry flavors and I think the Pineapple would go well with the Wheat Thins, but I didn't have any of that type to try it with. I'll definitely be thinking about using Greek Yogurt in or as a dip in the future!
So, my favorite Giant Eagle Greek Yogurts- if I were eating them without crackers would be one or all of these: Strawberry, Black Cherry or Raspberry. I think the fruit helps balance the rich consistency of the yogurt itself. I think the Giant Eagle brand is a good line of Greek Yogurt- just as good as any other brand I've tried in the past. Its the first time I've had their brand and I would certainly have no problem buying it in the future over other brands if the price is better.
Do you have a favorite Greek Yogurt flavor or any "dip" recipes you've tried using Greek Yogurt in place of cream cheese?  Share below in the comments and I might "pin" your recipe to my Pinterest board for Fancy Butter and Dips.
*Giant Eagle provided me with gift cards to complete this review. Opinions are my own.