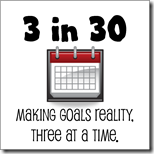 If you read my post here about joining in the 3 in 30 Challenge you might remember my three goals to work on this month:
(1)  getting out of bed earlier so I have that nice quiet house to myself and my thoughts before the kids get up, which will help me to…
(2)  have the time to be faithful with my blogging/writing commitments which go beyond just my own thoughts on my own blog
(3)  be faithful (and not sporadic) with teaching/training my boys to spend time with the Lord in His word daily and teaching them why they need to establish this area of their lives.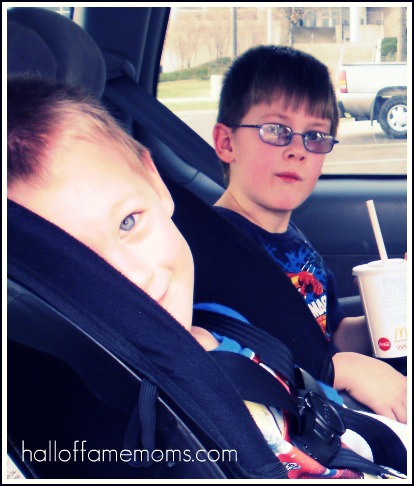 My first week update:
Well. Goal #1:  My getting up early goal flopped;  however, I found it easier to stay up late and have a quiet house for reading. Again, however, this is my norm. It's nice for reading my bible or another book but not so good for getting posts done on a regular  basis.
Goal #2:  The posts I struggle with "getting around to" are the posts that are for other blogs. The only other blog I'm really committed to writing for is the Prime Parent's Club as I'm the homeschooling contributing writer over there. I'm struggling with getting that done. Anything else would be guest posts.
I know I need to have a time slot in my day where I can concentrate on writing such posts, if they are to be written. Since I homeschool the boys and am rarely home alone this is an issue I need to find a way to work around.
Goal #3:  Though I wasn't faithful in getting my boys to be "daily in the Word" every morning, I did accomplish this at least twice.  I find that if I put if off in the early part of the day, soon it becomes later in the day and never happens. My husband usually tries to be in the Word with the boys before bed too. My goal is to train my sons to live out Psalm 1: 2-3 along with me.
"But his delight is in the law of the Lord; and in his law doth he meditate day and night.
 And he shall be like a tree planted by the rivers of water, that bringeth forth his fruit in his season; his leaf also shall not wither; and whatsoever he doeth shall prosper."
Are you working on any goals this month?