[Today I'm back to the How We Homeschool Series. Go here to see Parts 1-3.]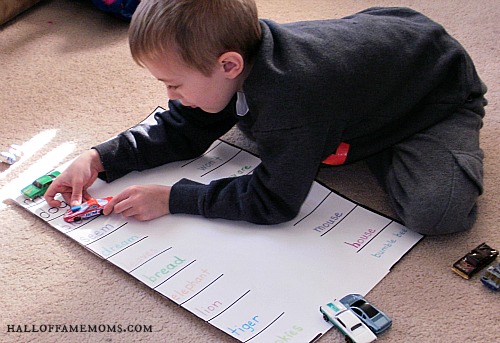 Jack's "reading parking lot". I say a word and he has to find it and park his car on it.
A few months ago I started this How We Homeschool Series and then a busy season of Ohio Family Fun giveaways kicked into gear and I just didn't have the stamina to finish this series.
Things have slowed down now and I can get back to business sharing my eclectic style of homeschooling. We are in the middle of our third year at this homeschooling adventure and I for sure don't have it all figured out. I'm not sure I ever will but being eclectic in style means I have a lot of freedom in my choices. Some like the predictability of having textbooks… I like having the freedom to mix and match, create and call the shots 🙂 . My way probably is more work, but all of us moms are different.
Today I'm sharing about teaching reading, writing and language arts. I believe in the expression: Repetition is the key to learning.  And I believe things are "picked up" on by exposure. I don't just rely on those beliefs though, I do teach.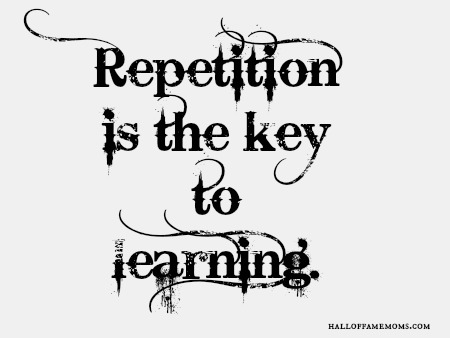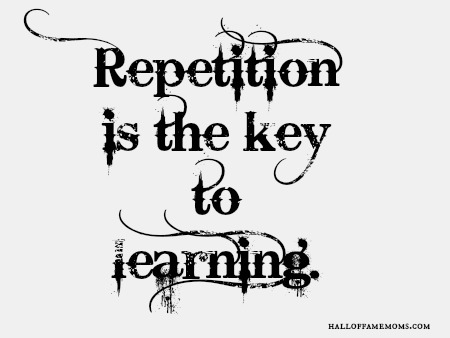 Then and Now
Then:  My oldest was in first grade when we began homeschooling. I would have him do copywork to practice handwriting, punctuation, spelling, etc.. I'd pick something from a book and have him copy it: poems for children, bible verses, whatever.
Now:  My oldest is reading bigger books with less pictures, currently The American Adventure series. He just finished his first book The Mayflower Adventure (The American Adventure Series #1)
. I had him writing a short book report on each chapter.  Putting what he has read into his own words is a challenge for him and I will let him go back to the book to find what he wants to write about. I only require a minimum of three sentences, preferably he will write more though. Then, at some point, I take his book reports and involve him in the corrections so he learns the right way to punctuate, etc.. I also find lots of good free stuff online (I'll share where below).
Note: I just recently decided to purchase a grammar curriculum and found a used copy of Easy Grammar for 3rd and 4th grade to try. I'm still waiting on it to arrive. I'm looking forward to it!
Then: Since my oldest had been taught sight words in public school kindergarten I continued that practice at home. I also used ClicknKids.com phonics. I liked this program but neither of my boys cared much for it overall and I ended up quitting it.
Now:  My youngest, now in first grade, does not show much interest in reading. Just like us moms – all kids are different too, and that's okay 🙂 .  I have been using some of the Explode the Code
series and other miscellaneous workbooks for teaching phonics to my youngest right now and working on sight words.
Reading books I've used for both of them are a series of Christian early learner books called Rocket Readers
and other simple readers. As my oldest progressed he was reading Dr. Suess, etc..
Some of my favorite sources for finding homeschooling material:
*Pinterest – I follow teachers with classrooms and other homeschooling parents who share their creations and their tips. I have several boards with homeschooling helps. You can follow me here if you want and peruse my many pins! I'm even following some CC (Creative Conversations people). Here's my Homeschooling Language Arts board.
*Currclick- Awesome source for affordable downloadable and free homeschooling lesson to use. This is where I got my cursive writing sheets for my oldest. I have bought and got for free LOTS from this site. What else is nice is that they keep all my links in a "library" so if I can't find it on my computer I can just go there and download and print what I've already bought.
*Amazon & Swagbucks– Since I'm online so much I make it pay. I earn free Amazon gift card codes (my prize of choice) through using Swagbucks' search engine. I then can buy homeschool supplies for free or cheap.
*The local library helps me make my own unit studies and here are my 3 easy tips for that.
*FREE printable maps and timelines.
 How We Homeschool Tour & Series Introduction
Part 1:  How I Organize
Part 2:  The Goals and Chart for My Boys
Part 3:  Eclectic Homeschooling Math
Part 4:  Eclectic Homeschooling Reading, Writing & Language Arts
Part 5:  My easy, laid-back way of homeschooling Science
*Some of my affiliate links are shared in this post.
The following two tabs change content below.
Owner/Editor
at
Hall of Fame Moms
Tracy writes about homeschooling and just about anything related to family life in Ohio here on the blog. Strong honest views will surface from time to time on topics related to truth, faith and freedom. **Check out my notebooks and Bible Memory Coloring Notebook workbooks for Adults & Teens by clicking my name.
Latest posts by Tracy Zdelar (see all)