Its been said that there are only two things that will last forever: the Words of God and the souls of men. To be honest, these are two of my greatest interests and passions and most of my book reading has to do with these two issues. So when I have the opportunity to share the truth that can change someone's life and their eternity, I need to share it.
Unfortunately, I've found that more often than not people don't want to know the truth. They'd rather live life as they know it. I'm sure pride has a lot to do with this,  but so does this blindness the bible speaks about:
"But if our gospel be hid, it is hid to them that are lost: In whom the god of this world hath blinded the minds of them which believe not, lest the light of the glorious gospel of Christ, who is the image of God, should shine unto them. For we preach not ourselves, but Christ Jesus the Lord; and ourselves your servants for Jesus' sake."  II Corinthians 4:3-5
With that said, I hope everyone will take some time to read Mary Ann's story about her blindness and what set her free from it.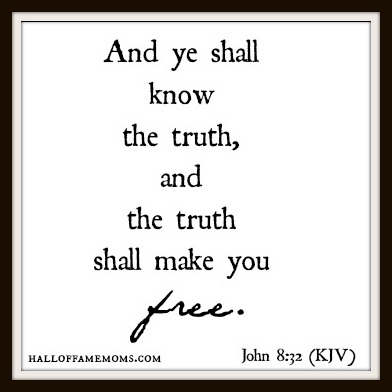 Mary Ann, a former Nun writes:
"Jesus said that the truth will set us free. (John 8:32) However, He did not say that the truth would necessarily be easy to accept. It was painful for me to learn the information that I am about to share with you, but it was also liberating and it led to a closer relationship with God." …
Don't miss the rest of her story here online or download the article from this FREE PRINTABLE pdf I created below:
*RCC = Roman Catholic Church
The following two tabs change content below.
Owner/Editor
at
Hall of Fame Moms
Tracy writes about homeschooling and just about anything related to family life in Ohio here on the blog. Strong honest views will surface from time to time on topics related to truth, faith and freedom. **Check out my notebooks and Bible Memory Coloring Notebook workbooks for Adults & Teens by clicking my name.
Latest posts by Tracy Zdelar (see all)