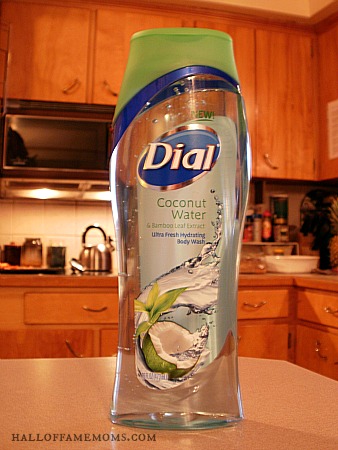 NEW Dial Coconut Water Body Wash is the first of its kind, I'm told, to contain coconut water for clean, healthy hydrated skin.
I've been trying out and it does have a light coconut scent and foams up really nice. The nice thing with a body wash like this, in my opinion, is how easy the soap foams on my "spongey-plastic-loofah" thingy (yes, I don't really know what its called exactly).
Having Dial Coconut Water Body Wash is a bit of luxury here at my house as I usually buy bar soap. The hint of coconut is there to remind me of the beach I'd like to visit someday again.
I have 3 coupons for 3 of you to
receive one full size
Details for my giveaway will be below.
But first, check out the Dial Sweepstakes!
Enter the Sweepstakes here: one lucky grand prize winner will receive $1,000, while 250 second place winners will receive free Coconut Water Body Wash.
Enter to win one of my 3 coupons! // 3 winners!
Just follow the Rafflecopter directions below. Winners will be picked by random and emailed.
*Dial Soap provided me a sample of the Dial Coconut Water Body Wash to review and coupons for the giveaway. Opinions are my own.