There are two videos in this post. To see them you must go to my blog, in case you are reading this in email. Click the title of this post (above) to go to my blog if you're reading this post in your email.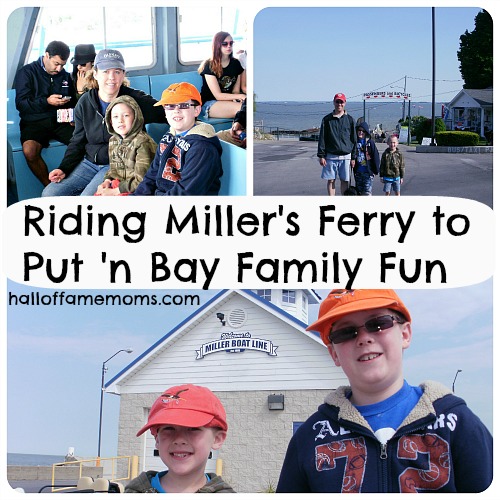 This is Part 3 of my series about our 2013 trip to experience family-fun in Sandusky, Ohio not to be confused with our 2012 trip and series. 
Thank you for joining me again! Let me disclose that our transportation to/from Put'n Bay as well as on the island in addition to our Perry's Cave Family-fun Center tickets were all provided for us in exchange for my honest reviews. Opinions are mine and I was not further compensated.
Last year we traveled to Put 'n Bay also and I wrote a 4 part series about our Lake Erie Islands trip here. Today's post is about our 2013 Put 'n Bay trip we took May 18th, which also happened to be our 11th wedding anniversary 🙂 .  We picked up the Miller's Ferry this time at the Catawba dock on the mainland.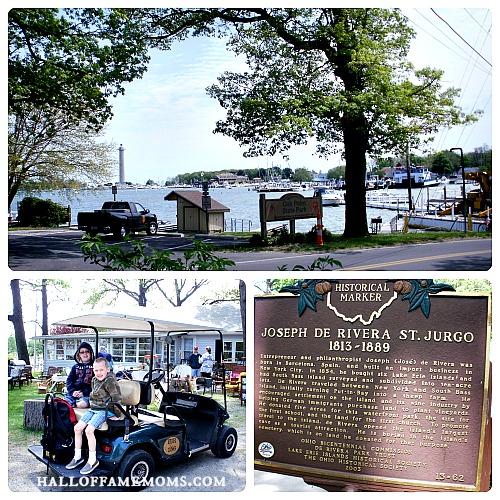 After we docked at Put 'n Bay we walked across the street to the brown Island Bike & Cart Rental  building and picked up a golf cart that had been reserved for us. This is what we used to get around for the day.  Put 'n Bay is part of South Bass Island and today happened to be their island-wide garage sale day. We checked out a few sales but really didn't see anything for us. I saw a number of antiques though. I think this is an annual thing so if you're interested in islands and antiques you may want to make plans to visit this time next year.
Put 'n Bay has historical significance! I really appreciate that. There were markers around telling you about the island's past. Last year when we visited we had the Island Fun Pack with tour. It was a nice ride and the driver told us about some of the history and names behind the island. I recommend doing that for the fun, rest, and all you will experience and learn!
This year we explored on our own. Because mid-May is early season for Put 'n Bay the Saturday we visited not everything we were interested in was open. We didn't get to go inside the Perry's Memorial (tower) and the museum was closed too. It's a good idea to call ahead of your visit to make sure the things you want to see or do are open.
Perry's Memorial stands in honor of those who fought in the Battle of Lake Erie during the War of 1812. I look forward to possibly making more visits to South Bass Island over the upcoming years to teach my boys more about the role Lake Erie played in the War of 1812 and possibly to research more about shipwrecks of the Great Lakes.
How awesome is it to live in Ohio, near such history!  Don't you think so too?  My husband and boys don't seem to have the same historical enthusiasm as I do. But the boys are young, there is time. My husband though…. hmmmm?  😀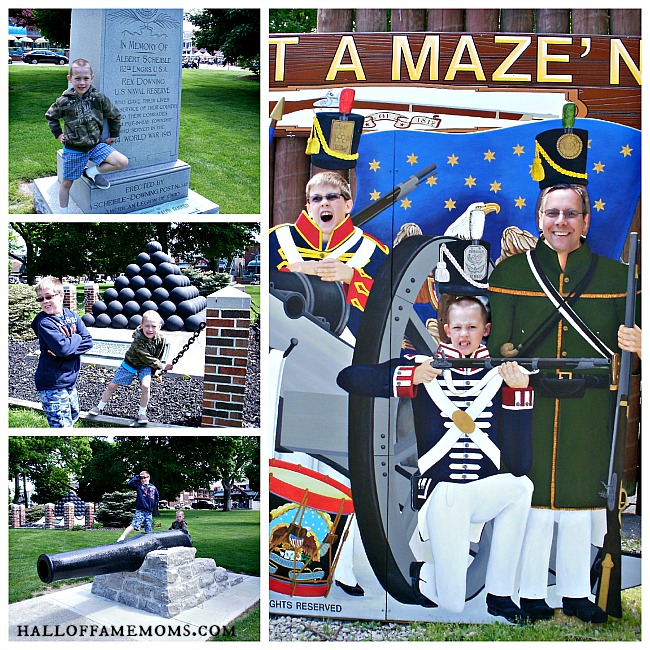 The cannon, cannon balls and historical markers pictured mostly in this post are from the "central" park area in Put 'n Bay.  The soldier mural my family is pictured in is at the Perry's Cave Family Fun Center and more specifically, in front of Fort Amaz'n.
We walked through Fort Amaz'n, The Butterfly House, played The War of 18 Holes mini golf, and the boys and my husband did the Rock Wall. We had the Super Combo tickets and could have done all five but it was a chilly day and we'd been in the cave before so we skipped that one.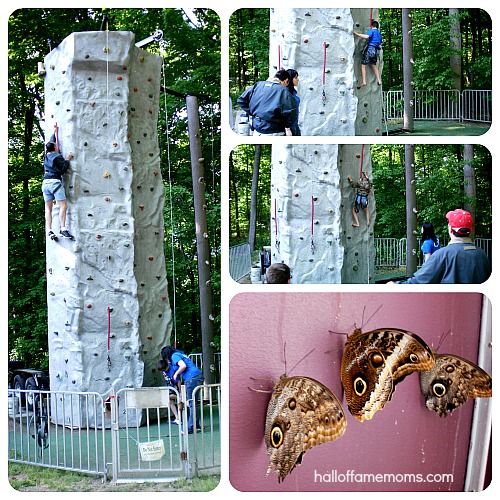 Directly below is a short video of The Butterfly House and some outdoor scenes as we drove away on our golf cart at the  Perry's Cave Family Fun Center.  Be sure to click through the title of this post to reach my blog so you can see both videos.
Last but not least, here is a short video of what we saw and experienced watching and riding Miller's Ferry. Below the video you'll find this series listed with links for the posts that are already live. I hope you'll follow along for the rest of the series and please leave me a comment!
You can subscribe here to follow along with this series.
Part 1:   Planning your trip with Lake Erie Shores &  Islands
Part 2:  Maui Sands Resort &  How we saved money on meals.
Part 3:  Miller's Ferry to Put 'n Bay
Part 4:  African Safari Wildlife Park
Part 5:  Edison's Birthplace and the Milan Historical Museums
*Our transportation on Miller's Ferry and the golf cart as well as our Super Combo tickets for Perry's Cave Family Fun Center were provided for free in exchange for my review. I was not compensated further and opinions are my own. Thank you for reading! Please join me on one or both of my Facebook pages: 1000ThingsToDo in Ohio and Hall of Fame Moms. 😀
The following two tabs change content below.
Owner/Editor
at
Hall of Fame Moms
Tracy writes about homeschooling and just about anything related to family life in Ohio here on the blog. Strong honest views will surface from time to time on topics related to truth, faith and freedom. **Check out my notebooks and Bible Memory Coloring Notebook workbooks for Adults & Teens by clicking my name.
Latest posts by Tracy Zdelar (see all)