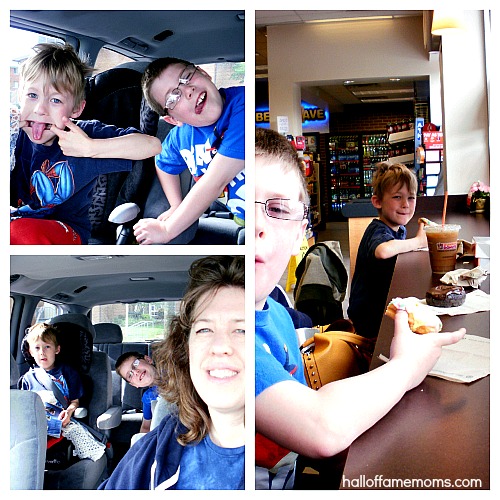 Today I was feeling so much better, I took the boys out for donuts for breakfast to celebrate! And we took some pictures.
I mentioned in this post that I thought I was pregnant.  I was having so many symptoms and was not feeling like myself. The lightheaded-weak- fatigue business was my biggest problem and by Monday I felt like I was dying or something. Something was wrong with me. I didn't even feel like I should be driving to the doctor's myself.
Well, my OBGYN appointment wasn't until Tuesday but I could not wait. I called my family doc and got in that morning. Blood work was done and I was told to keep my OBGYN appointment.
Bloodwork came back normal and negative for pregnancy. After a talk with my OBGYN yesterday she told me hormones do these wacky things to us. Now – she thinks I'm fine and not needing any meds or further tests and today I've been pretty much 100% back to myself. I think that's because my "cycle" is running its course and regulating my hormones correctly.
Boy- was the last week or so a strange ride!  Hormones are serious. They really can mess with a person. And speaking of hormones… Mother's Day is Sunday!
Sometimes I feel like running my home is like running a small farm- I am a domestic-engineer 🙂 – or it can feel like THIS looks. There's always something to do – laundry, grocery shopping, meal planning, cooking, driving the kids somewhere, scheduling appointments, and on the list goes. Many moms work outside the home and many work from the home. Many homeschool their kids too. When you work at home and homeschool your kids, as I do, you're with the kids almost 24/7. There are positive and negative side effects to all this closeness 🙂 .
So dads, teach your children to be thankful for all that their mom's do for them.
Seriously.
It might be a little awkward for us moms to tell the kids – "you really need to be thankful for all the things I'm doing for you". Know what I mean?
And the example of you guys showing/demonstrating "thanks" will speak volumes to your children!  They may actually learn how to be thankful and what to be thankful for.

You know what they say?  More is caught than taught.
I Thessalonians 5:18 "In every thing give thanks: for this is the will of God in Christ Jesus concerning you."
The following two tabs change content below.
Owner/Editor
at
Hall of Fame Moms
Tracy writes about homeschooling and just about anything related to family life in Ohio here on the blog. Strong honest views will surface from time to time on topics related to truth, faith and freedom. **Check out my notebooks and Bible Memory Coloring Notebook workbooks for Adults & Teens by clicking my name.
Latest posts by Tracy Zdelar (see all)