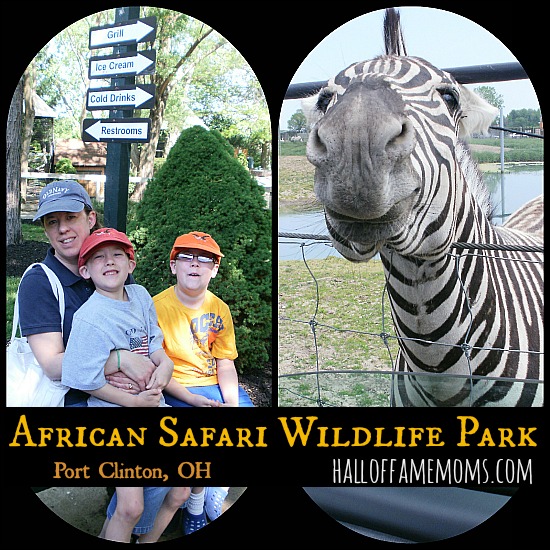 Welcome to Part 4 of Our 2013 Sandusky Trip where I share all the family-fun places we visited the weekend of May 17-19!  Disclosure:  Our admission tickets and were provided in exchange for my honest review. Opinions are my own.
Recap
In Part 1 I told you about the one place you need to know about so you too can get the scoop on what to do in Sandusky Ohio.
Part 2 was about our two nights staying at the new Sandusky waterpark: Maui Sands Resort. I also shared how we seriously cut back on meal expenses by utilizing our room.
Part 3 was about our ride on Miller's Ferry out to South Bass Island and what we did for the day in Put 'n Bay.
Today I'm sharing about our experience at the African Safari Wildlife Park. The weekend we visited was during their "early" season and not all of the animals were outside for viewing because of the unpredictable Ohio weather. As a result, we didn't get to see the White Alligator, among others.  However, when you see my video below, you'll see we did have a lot to see and learn!
My husband is laughing so much in this video. Ever have a Bison stick his head in your van? Ever get to feed animals from your car? Get a cup of animal feed or buy a bag of carrots (only food provided by the African Safari Wildlife Park is allowed to be fed to the animals) and enjoy the experience!
In the video you'll see some of the animals that were out for the Walk Thru, the camel ride,  the animals we got to learn about and touch,  the "Drive-Thru & feed" animals, and the Pig Race that my son Brendan got to help with.  We were almost late to see the race and as we were coming up to the bleachers one of the workers asked that someone from our family come over and hold the last flag.
If you are reading this post in email you will need to click through to the blog to see the video. You can do that by clicking here.
 *Our admission tickets were provided for in exchange for my review. Opinions are my own.