Disclosure: As a Purex Insider I received a free box of Purex's 3x the Fragrance! Fabric Softener Sheets to review. As well as coupons to give away. Opinions are my own.
I don't have to tell you how good these smell – and I could smell them before I got the cardboard shipping box open! The fact that these dryer sheets are strongly scented makes me think they would be a great addition to a drawer, closet or other area that could use a sweet scent – like my boys' room. 😉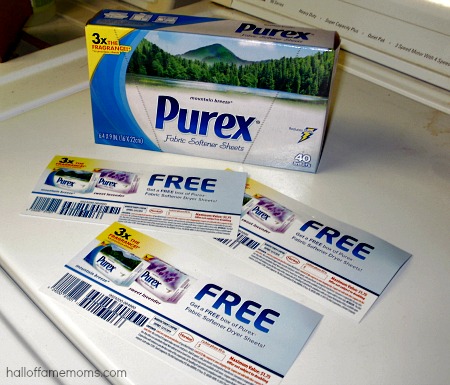 I'm seriously going to put one in their room. Somewhere. 
And maybe one in the bathroom too.  And one in the kitchen. Yep. Perhaps in the trash can under the trash bag.
Oh, and I'll tell you a place I'm for sure putting one…
. . .  in my van!  Guaranteed. 
I'll tuck it under a seat somewhere and I won't have to buy one of those cardboard scented trees.
Did you know that Purex fabric softener sheets will not only add freshness to your home, they reduce static cling and repel pet hair and lint (I've been told)?
Which is good to know because we have a black and white cat and black chair cushions that attract white cat fur. I'm going to test out the "repel pet hair" tip on my seat cushions.  This is Spanky.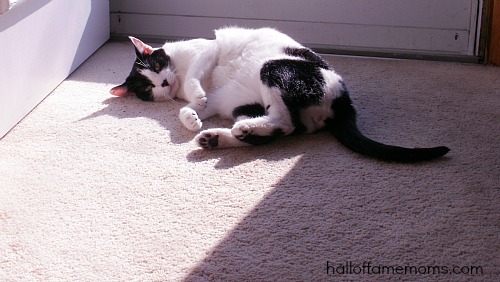 Now, I personally love scents! Does my husband? Not so much. I will likely be tearing these in half when I use them in the dryer, but I do that most of the time anyways to make my fabric softener sheets go further. I received Mountain Breeze but Purex fabric softener sheets also come in Sweet Lavender.
Enter to win 1 box of  Purex 3x the Fragrance! Fabric Softener Sheets!
Just follow the Rafflecopter instructions below.
*Purex sent me a box of dryer sheets to review and coupons to give away. Opinions are my own.