I really enjoy the No Greater Joy Ministries magazine I get for free in the mail. I do a lot of reading in general online so its nice to have a real magazine to read that doesn't require a battery and a cord 🙂 .
I also appreciate the ministry the Pearl's (family behind NGJ) have. It's extensive, I think, in reaching the lost with the gospel, defending biblical authority, and in teaching couples to be godly loving spouses and parents.
In the July-August issue I read their daughter Shalom's story about losing something and the strange way it was found. It got me thinking  how at times God's answers to our prayers arrive in ways we wouldn't expect. Certainly, many times His answers aren't the answers we want and it's hard to accept them. And then, sometimes the answers just come in strange ways.
In Shalom's story she shared that she lost a recently purchased  item and asked her 8 year old daughter to keep an eye out for it.  As her two daughters were unloading garbage (including a box of dirty baby diapers) into a  five-foot tall dumpster they encounter a problem. Each time the girls tried to push the box over the edge of the dumpster the box would fall back and spill its contents on top of them. Dirty diapers. (yuck)
Three times this happened. It was as if someone was pushing the box of dirty diapers back at them.
Finally, the eight year old said to her little sister, "God is trying to tell us something, so let's look in the box." So they did.  And there was their mother's missing item.
You can read the article online here.
Imagine if the girls refused to look in the box because of the gross contents?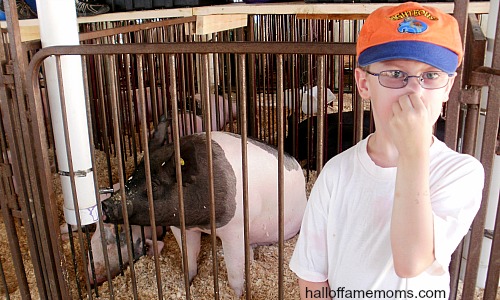 How many time do we refuse to look for the answers when we sense God is trying to tell us something- simply because we can't believe He would answer us in such a way?
2 Kings 5 tells us there was a great man named Naaman who served the King of Syria. Naaman developed leprosy.  When a young Israeli maiden (who had been taken captive) was heard saying that she wished Naaman could see the Prophet in Samaria (Elisha) because he could heal Naaman it was told to the King of Syria. The King of Syria sent a message to the King of Israel and long story short… Naaman comes out to meet Elisha.  Read on…
vs. 9   So Naaman came with his horses and with his chariot, and stood at the door of the house of Elisha.
vs. 10   And Elisha sent a messenger unto him, saying, Go and wash in Jordan seven times, and thy flesh shall come again to thee, and thou shalt be clean.  
Naaman's response?
vs. 11   But Naaman was wroth, and went away, and said, Behold, I thought, He will surely come out to me, and stand, and call on the name of the Lord his God, and strike his hand over the place, and recover the leper.
vs. 12   Are not Abana and Pharpar, rivers of Damascus, better than all the waters of Israel? may I not wash in them, and be clean? So he turned and went away in a rage.
Really? Seriously? Naaman isn't exactly in the position to be so… picky and prideful. 
vs. 13    And his servants came near, and spake unto him, and said, My father, if the prophet had bid thee do some great thing, wouldest thou not have done it? how much rather then, when he saith to thee, Wash, and be clean?
vs. 14   Then went he down, and dipped himself seven times in Jordan, according to the saying of the man of God: and his flesh came again like unto the flesh of a little child, and he was clean.
vs. 15   And he returned to the man of God, he and all his company, and came, and stood before him: and he said,: no Behold, now I know that there is no God in all the earth, but in Israel…
" Humble yourselves therefore under the mighty hand of God, that he may exalt you in due time:  Casting all your care upon him; for he careth for you."
– I Peter 5: 6-7
You might want to see Part 1: Joyful in Death or How a Christian faces news of their impending death.  All scripture is from the KJV and emphasis mine.
The following two tabs change content below.
Owner/Editor
at
Hall of Fame Moms
Tracy writes about homeschooling and just about anything related to family life in Ohio here on the blog. Strong honest views will surface from time to time on topics related to truth, faith and freedom. **Check out my notebooks and Bible Memory Coloring Notebook workbooks for Adults & Teens by clicking my name.
Latest posts by Tracy Zdelar (see all)