Did you know the Green Giant makes veggie chips? And they are really really good!
As a Clever Girl member, I received a bag of Roasted Veggie Tortilla Garden Ranch Chips and a bag of  Multigrain Sweet Potato Barbecue Chips  from Green Giant to try for myself- and because I'm nice I'm sharing them with my family.  🙂  I do not have to give a favorable review, I am compensated for my time and I'm sharing my honest opinions with you so you can decide for yourself if these NEW chips are something you would like to try as well.
So, back to the chips.
Both Green Giant varieties are made with real vegetables and the Veggie Tortilla are definitely my favorite. They're strong crunchy tortilla chips with a lot of flavor – I'm eating them while I write this post 🙂 .  My 7 year old really really likes the "spicy chips" as he calls them (the Multigrain Sweet Potato Barbecue Chips).
Now – these chips are NOT meant to replace your regular vegetables. So eat your corn and peas people! With that said, the Sweet Potato chips package says they  have 14 grams of whole grains, 0 grams of Trans Fat and are made with Real Sweet Potatoes!
The Roasted Veggie Tortilla Chips bag says they have 18 grams of whole grain, 0 grams of Trans Fat and are made with Real Vegetables.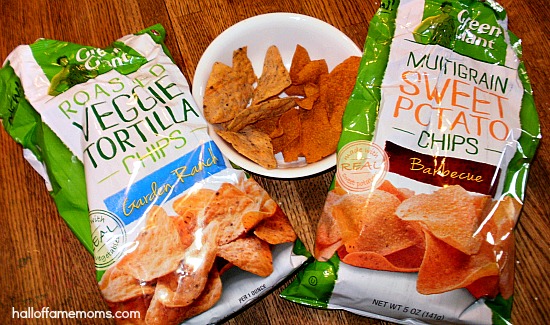 Though both pack enough flavor to stand on their own and we've enjoyed Green Giant chips just as they are you could also enjoy them with your favorite dips – nacho cheese, hummus, or whatever you like.
But again, they are flavorful by themselves.
And they're NEW from Green Giant.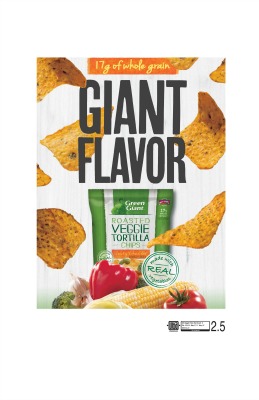 I was selected for this opportunity as a member of Clever Girls Collective and the content and opinions expressed here are all my own. I will be compensated for my time and received the chips for free to review.