*UPDATED with printable coupon! See link below.
BJ's Wholesale is offering a FREE 60 day membership which you can use this coupon for to get a FREE 9-12# turkey when you buy 5 or more of the following approved food items.  I plan on getting mine!
BJ's offers an assortment of fresh and frozen food and delicious bakery items to help you create a complete Thanksgiving feast for your friends and family – and it's the only wholesale club that accepts manufacturer's coupons as well as their own coupons.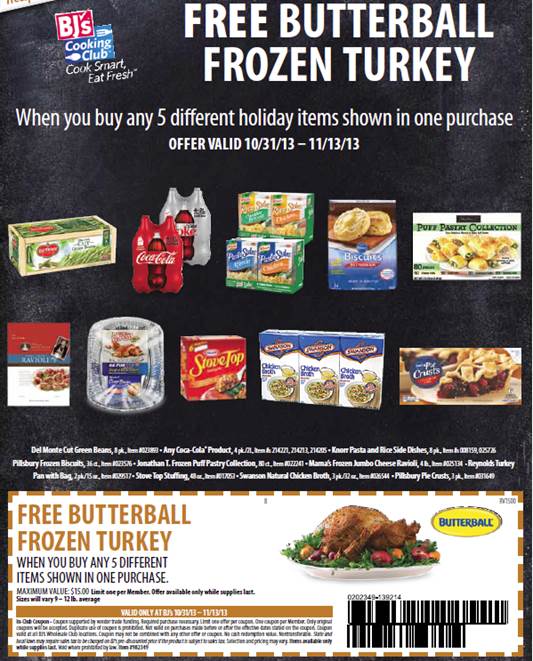 With a purchase of five qualifying products, you'll get a Free Butterball Frozen Turkey (9-12 lbs.). The select items available to qualify are:
Del Monte Cut Green Beans- 8 pack
Any Coca-Cola Product- 4 pack/2 Liters
Knorr Pasta and Rice Side Dishes- 8 pack
Pillsbury Frozen Biscuits- 36 count
Jonathan T's Frozen Puff Pastry Collection- 80 count
Mama's Frozen Jumbo Cheese Ravioli- 4 lbs.
Reynolds Turkey Pan with Bag- 2 pack
Stove Top Stuffing- 48 oz.
Swanson Natural Chicken Broth- 3 pack/32 oz.
Pillsbury Pie Crusts- 3 pack
The coupon can be used at any BJ's locations now through November 13. If you're not a club member, you can still shop and save. The wholesale club is offering a Free 60-Day Trial Membership, which can be activated until December 31.  The risk-free, trial membership consists of full-member benefits and no surcharge.
Click here to download and print your coupon.