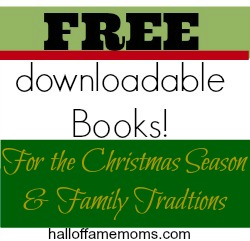 While my husband and I watch a movie with the boys tonight I did some free kindle browsing on Amazon. I thought I found a nice selection of what's available right now for free or .99 and I hope you do too.
I haven't read any of these yet, but I am probably going to be grabbing a couple- possibly Lee Binz book for .99 for Homeschoolers. I am using my affiliate links which won't cost you anything to click through to grab some free books or buy. I may make a tiny bit of change if you do. You can  view my disclosure policy here.
8 FREE &  $.99 Kindle ebooks
Just click the images to access the books.
(FREE) The Green Crafts Lifestyle – Christmas Edition: Decor, Cards, Gifts
(FREE) Homemade Christmas Gifts
(FREE) Christmas: It's Origin and Associations Together with it's Historical Events and Festive Celebrations During 19 Centuries
(FREE) 15 FUN Christmas Stories, Free Coloring Book, Santa Claus Classics
($.99) Homeschooling the Holidays (Lee Binz) Sanity Saving Strategies & Gift Giving Ideas
($.99) 25 Christmas Stories & Free Coloring Book
($.99) 15 Christmas Stories with Activities and Coloring Pages

($.99) Goodnight Christmas Tree "A gorgeous illustrated children's picture ebook with FREE GIFTS"