As a Mom Central blogger I had the opportunity to purchase a precooked HoneyBaked Ham family dinner recently. I've never done this before so it was a very new experience for me. I didn't even know this was "how you did" HoneyBaked Ham. While we did receive free food to try, this is not a paid post and opinions are my own. The prize is being provided for via Mom Central and HoneyBaked Ham.
HoneyBaked Ham is a family-run company, still uses the special recipe of its founder since the first store opened in Michigan in 1957. They take the finest quality bone-in hams selected for leanness, cure them in their sweet, crunchy glaze, and smoke them for up to 24 hours over a unique blend of hardwood chips to make them tender. They then slice them using their patented machine that produces a single, continuous spiral of perfectly even slices.
I pretty much thought you just bought a precooked specialty ham from them – or  you could pick up a ham sandwich lunch. But…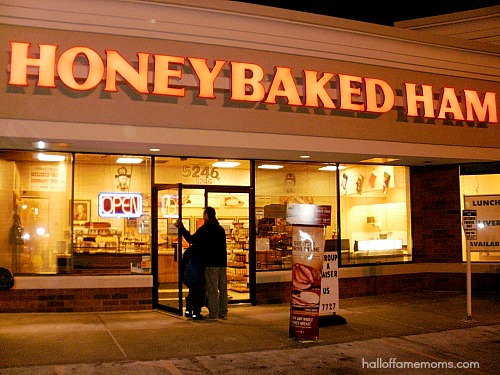 …there's more to HoneyBaked Ham than that as I soon found out.
Our family made a stop at our local HoneyBaked Ham store in Belden Village one night just to get an idea of what this was all about. Then, a few days later I went in and picked up what I wanted. I didn't have to order ahead of time. I think everything, except some soup beans,  is cooked and waiting in the coolers or on the racks.  … they even have turkey, ribs, ham salad, shredded chicken and pork, pork roast, meat loaf, …. and BACON.   😉
The side dishes come in two pound heat and serve trays. Simply remove the outer wrapping and pull back the film cover and stick it in the oven for about a half hour or so – depending on whether you thawed it out first or not.
The ham comes cold – and it's so delicious cold 🙂 .  Yes, I was sampling the ham hours before dinner.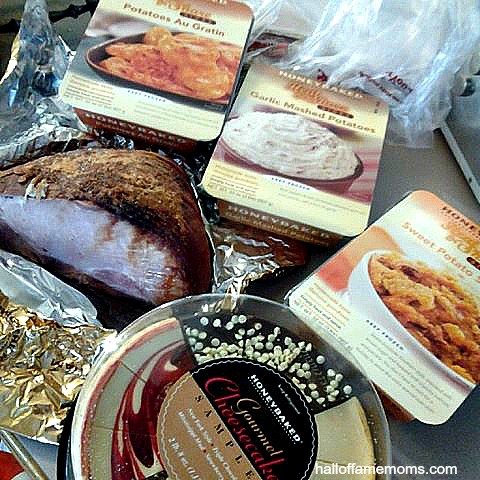 Gourmet Cheesecake Sampler, anyone?
Picked up one of those too. But that's not the only dessert, they also have a coffee cake type dessert and pecan pie.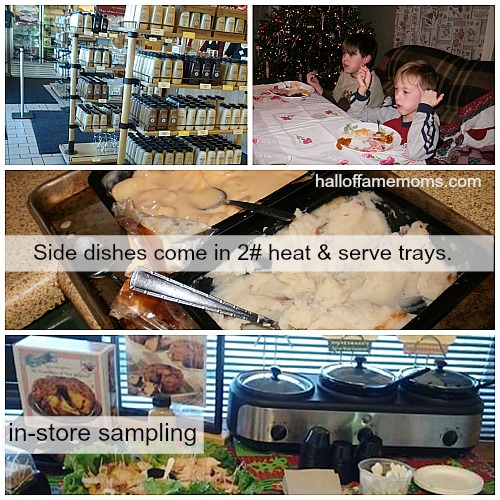 I shared pictures -live – on Instagram (follow me there, if you want).
My husband found some HoneyBaked Ham coupons in our coupon inserts. I saved an additional $3 on the quarter bone-in ham and the in-store special was $3 off three sides. I saved $6 on my order! Side dishes available are green bean casserole, sweet potato souffle, au gratin potatoes, garlic mashed potatoes and broccoli rice casserole – among others!
We took our HoneyBaked Ham dinner (and gifts) down to my parent's house for an early Christmas get-together. Being able to heat everything up in the packaging and serve out of it too cut out so much work for us and the food was good. We had the Au Gratin and Garlic Mashed Potatoes with the ham and cheesecake for dessert!
How'd you like enter to win a $25 gift certificate for HoneyBaked Ham?!
Open to USA residents 18 years of age and older. Just follow the Rafflecopter directions below.  Giveaway begins tonight and ends 12/26 at 11:59pm EST. Winner will be picked randomly and will be emailed and given a limited time frame to respond or a new winner will be picked. Watch your spambox!