This is the third Ouidad hair product I've had the privilege to review. I'm still not sure how to pronounce Ouidad. Is it wee-dad?  The girl who cut my hair last wasn't familiar with this brand so I doubt my salon sells it – but I don't know why they wouldn't… these Ouidad products have been great!
And, I'm not paid to talk about these products, I just have a "connection" who sends them to me to try out and talk about on my blog. I don't have to give a positive review  🙂 . I am using my Amazon affiliate link too.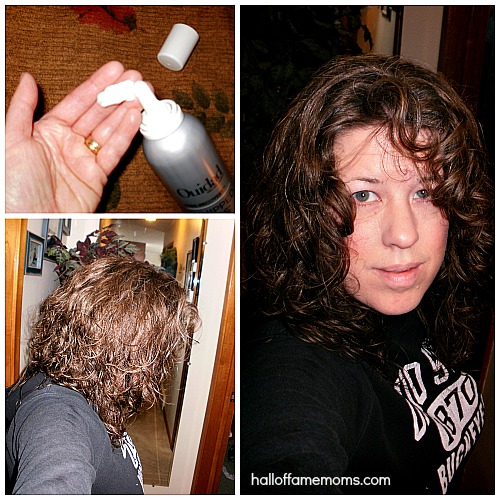 So this Whipped Curls? It's totally like a can of whipped cream (do not eat it! 🙂 ). Sorry my pic isn't better, but the can and spout are shaped like a can of whipped cream. The cream is thick and luscious and smells so so wonderful! A little is all you need – even for long thick hair like mine.
I don't usually do much with my hair. It's thick, long and naturally curly. What makes a BIG difference is having the "right" cut. I picked the right "do" in October – my most recent salon visit. I only get my hair professionally cut about 2-4 times a year. I usually chop at it myself during the in-between times.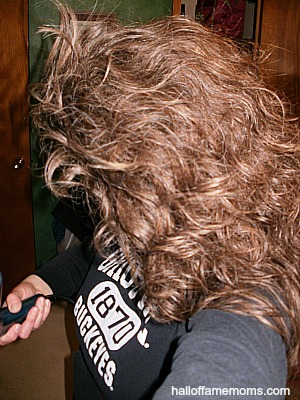 Here's an action-shot for you: trying to take a picture while drying my hair. I just have an old hair dryer, not a diffuser. I don't use a curling iron either. I blow my hair dry wild-like… so not the way my hair stylists do. Oh well.
Up till a certain point I was trying to take all the pictures myself – but, my arms aren't super duper long so I recruited my husband's help for the rest.
Oh, and it was the day of the big OSU vs. MU game – GO BUCKS! (They won!) I'm not all that into sports but I do like a good rivalry and I try to be a little supportive – see, I wore my OSU sweats 🙂 .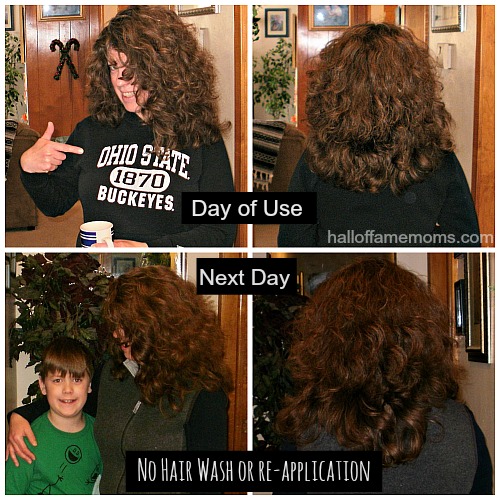 I try to go 1-3 days between washing my hair. I also almost never-ever use a hairbrush – just a hair pick or my fingers. My curls do stretch out after a day or so and I like the thinner look with this cut.  Unfortunately, I don't have a good flat iron for my thick hair anymore (it fell apart). Usually I wear a ponytail or head band.
It just took a little bit of Whipped Curls the day I washed my hair and the next day my hair looked just as good without adding anything else to it. I might just have on some hairspray on the "next day" pictures.
How to use Whipped Curls: You can use it on dry hair or wet. After shampooing as a primer before you dry and style or in shower as a conditioner that you rinse out after 3-5 minutes.
I reviewed Ouidad's Sea Salt spray and TextureTaffy in this post. You can learn more about Ouidad hair products, find their salons, and find where to purchase their products at their website here.
You can buy Ouidad Whipped Curls: Daily Conditioner & Styling Primer for All Textures on Amazon here.
Follow Ouidad on Facebook here.
The following two tabs change content below.
Owner/Editor
at
Hall of Fame Moms
Tracy writes about homeschooling and just about anything related to family life in Ohio here on the blog. Strong honest views will surface from time to time on topics related to truth, faith and freedom. **Check out my notebooks and Bible Memory Coloring Notebook workbooks for Adults & Teens by clicking my name.
Latest posts by Tracy Zdelar (see all)