If you live in NE Ohio like me you know what the weather is like, I don't need to tell you. These super cold days make me feel good about the fact we homeschool!
But we're not just about homeschooling here, we've had other fun things to do.  Like attending a blogger event at Castaway Bay over the weekend. This was our fourth year being invited to it! If you haven't been to Castaway Bay's Indoor Waterpark Resort and wonder if it's for your family just check out my reviews and videos  <—-at thas link.  I also have 4 day-passes to giveaway soon so please subscribe here to get my free updates by email so  you don't miss it!
The pic below is my husband doing his regular before-bed bible study with our boys during our one night stay at Castaway Bay. (Love it!) More pics to come in my giveaway post later.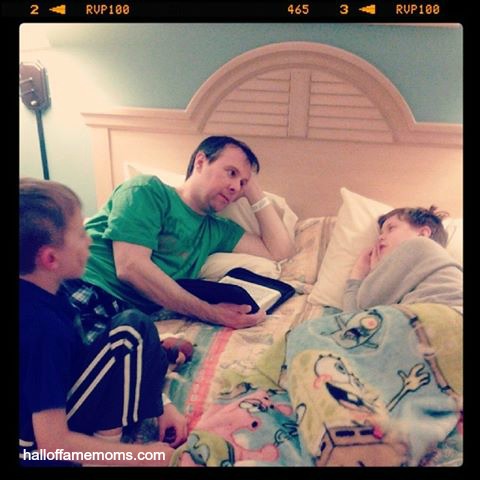 We've made Snow Cream ice cream that is simply light, very vanilla, and delicious! I got the recipe from my friend's blog here, but I'll share the recipe below my pics.
Now she says don't try to refreeze it but I stuck what we didn't eat into our freezer like I would an extra Blizzard from DQ and a day or two later it was just as good or even better as it was thicker like real ice cream!
I keep my empty plastic ice cream containers like the one in this pic for other uses so I just used this to fill up with fresh snow since we had gotten so much snow recently.
In a separate bowl I mixed together: 
2 teaspoons of vanilla extract
Pour the mixture over the loosely filled snow and mix. This yielded approximately a half gallon of ice cream I'm guessing. We didn't eat it all so I put the rest in the freezer in a cup. A day or two later we ate it and as you can see in the picture above of the snow cream in the bowls – it looked great! Tasted just as good or better! 🙂  But if you want to play it safe, just eat it right away, it melts!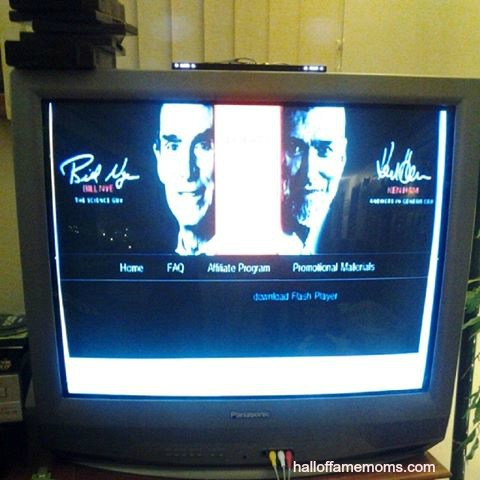 Last night Joel was looking up directions online for getting our Wii hooked up to the internet so we can watch the Ken Ham vs. Bill Nye debate in the comfort of our own living room February 4th, 7pm EST free via live streaming.
You probably already heard about this debate right? No? Do you live under a rock? hehe Just kidding. Get more info here.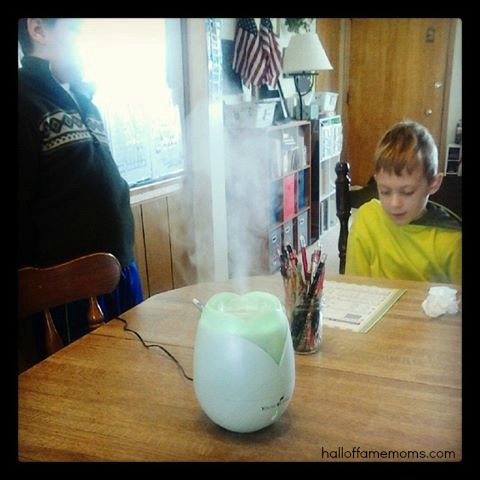 And then of course it's our turn to deal with the sickies: both boys have had a croup-like cough and other cold symptoms so I've pretty much been keeping them away from other human beings. My Young Living essential oils diffuser has been getting a work out. Just add distilled water and essential oils and you get these nice cold-air oil scented vapors in the air.
After two nights on the couch with mid-night coughing drama from  my oldest, upon a tip from my friend Tami, I've been rubbing some Thieves and Frankincense oils on the boys' chests in addition to the other things I've been doing and I have noticed an improvement in our last two nights.
As for school, our homeschooling can still go on even if the public schools have to close.  Homeschooled kids just get snowed in with the teacher and their books 🙂 .
*Subscribe here to get my free emailed updates.
The following two tabs change content below.
Owner/Editor
at
Hall of Fame Moms
Tracy writes about homeschooling and just about anything related to family life in Ohio here on the blog. Strong honest views will surface from time to time on topics related to truth, faith and freedom. **Check out my notebooks and Bible Memory Coloring Notebook workbooks for Adults & Teens by clicking my name.
Latest posts by Tracy Zdelar (see all)