*Today Stephanie Grams, also one of my sisters, is writing about a business product she received for free in exchange for a review. BuildaSign provided her the product and is also providing the prize for today's giveaway!

I've been an entrepreneur since the age of 7 years old, plus I've been a marketing assistant since 2006. Through the years I've learned many tried and true marketing techniques and must-have products. One of those products are business cards!
So, as you can imagine, when I was asked if I wanted to do a product review for the company BuildaSign with the choice of business products I immediately said yes and picked business cards as my item to review.
I was apprehensive about designing my own business cards, at first, simply because I have done this before using a different company. I was pleasantly surprised at how quickly I was able to pick my design and upload my own website banner (at no additional cost!).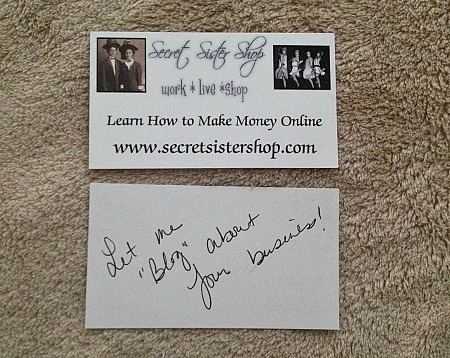 Their customer service is top-notch. A week after placing my order my family had to move out of state so my husband could start his new job …an entire month earlier than initially planned. I quickly emailed BuildASign and explained the situation and asked if it was too late to change my address. Not only did they change my shipping address but my 250 cards arrived at my new address within a few days of us arriving!
I chose to have my business logo printed on only one side while leaving the other side of the business card blank so I could write a personalized note to the business owner. The cards are sturdy and are perfect for mailing and also professional for in-person networking events.
BuildaSign does much more than business cards though. They can customize signs for business or fun (like parking signs and license plates), vinyl lettering, decals, and more. Visit their website here and follow them on Facebook.
Enter to win a $25 gift code to BuildaSign!
Remember it's not just business at BuildaSign, you can also have some items made into fun gifts (personalized parking signs and license plates).
Follow the Rafflecopter instructions to enter. Giveaway is open to USA residents (except Alaska and Hawaii) and includes FREE SHIPPING! Winner will be picked by random and emailed.
The following two tabs change content below.
Stephanie Grams is a wife, mother to 4 and entrepreneur since the age of 7. Having built a successful virtual marketing assistant business in 2006, she brings years of internet marketing knowledge to online business owners like you!
Latest posts by Stephanie (see all)