Say ME if you love coffee!
Giant Eagle sent me a sweet box of their Market District coffee and some treats to enjoy – and some to give away to one of YOU!  Opinions are my own,
Wasn't that sweet?! I love coffee. I usually have one cup in the morning and then one cup later in the afternoon. I really do consider it a treat and it helps me through the day 😀 .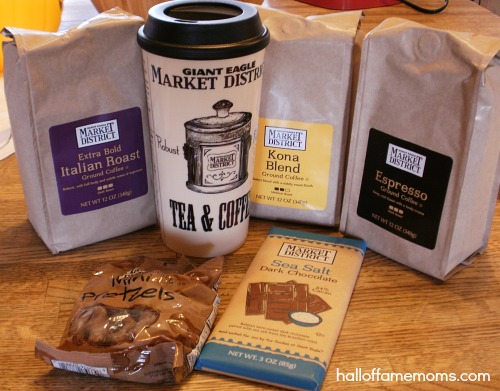 I've tried the Italian Roast and Kona Blend coffees, Sea Salt Dark Chocolate bar and pretzels so far. I'm more of a light-roast girl so I'm thinking the Espresso might be stronger than I want, though I have enjoyed the Extra Bold Italian Roast. I told my sister, Ashley, who has four young kids to keep up with that I'd give her the Espresso. She was VERY happy  – maybe EXCITED is more like it, that I'd share my coffee with her 🙂 .
The Sea Salt Dark Chocolate candy bar and Chocolate Covered Mini Pretzels were yummy!
Be sure to look for the other Market District coffees which includes Breakfast Blend,  Moka Java Blend, French Roast, Jamaica Blend, and French Vanilla among others!
Giant Eagle's Market District coffees include custom roasts, single-origin roasts from Columbia, Sumatra, and Kenya as well as premium grade beans sourced from the world's best growers.
Enter to Win!
Leave me a comment below telling me which of the three roasts you'd like to try first and you'll be entered for a chance to win a gift set just like I received! You'll get…
1 Market District travel mug
3 bags of coffee: Espresso, Extra Bold Italian Roast, and Kona Blend
1 Sea Salt Dark Chocolate Bar
1 individual bag of chocolate covered mini  pretzels
Winner will be picked by random and emailed.
Giveaway begins tonight and ends May 10th 11:59pm EST.
Open to USA residents, except Alaska and Hawaii.
You can follow Giant Eagle on Facebook & Twitter.
You may come back and leave ONE comment PER day so you have even more chances to win!