I've had the pleasure of reviewing some of the Kiss My Face sunscreen products over the past year or so and have come to appreciate the brand! This is not a paid post, I did receive a couple products to try and opinions are my own. I am using my affiliate links also.
Kiss My Face has a range of sun care products that work to block harmful UV rays with the use of Antioxidant Defenders  which include: Vitamin C and E, Green Tea, Goji Berry Extract, Olive Oil, Shea Butter and Aloe.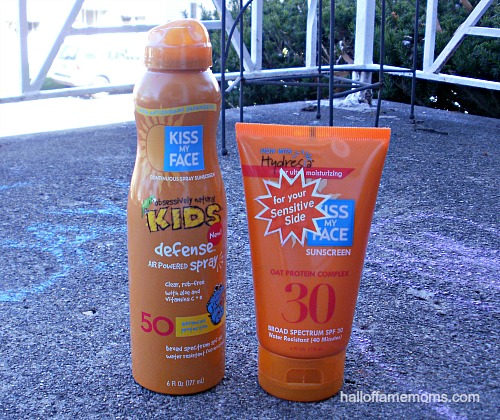 Kiss My Face introduces a NEW any angle Air Powered Spray that doesn't use chemical propellants – great for hard to reach areas like behind the legs. I received the Obsessively Natural Kids Defense Air Powered Spray spf 50 ($16.99) value which I've tried on myself and it smells really good – like orange citrus!
I'll be using this on my boys as needed for our outdoor soccer games and other outside activities which may include another trip to Put 'n Bay, a fossil park, and just maybe a trip to Myrtle Beach to see family! One of my many siblings and her family just moved down there (and yes, I've been a bit envious of THIS). But now we can afford to drive down there because we have a place to stay! [[[insert emoticons 😀  🙂  + cartwheels and happy dances!]]]
I've been wanting to visit a fossil park where you get to keep what you find, within guidelines. There are two places that I know of in Ohio – one in the Cincinnati area and one in the Toledo area. I was trying to put together a review trip to get down to the Cinci one but that hasn't come together yet. In the meantime, we were invited back out to Put 'n Bay so I'm thinking maybe we can hit Olender Park's fossil park while were up north this time.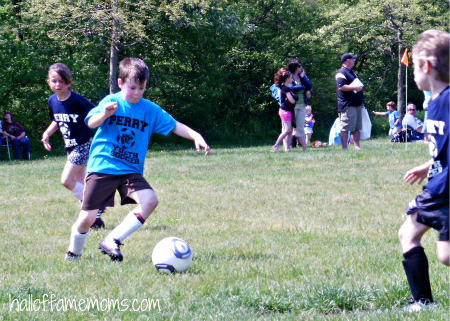 The other Kiss My Face product I received to try out is for skin sensitivity and has a Sensitive Side Oat Protein Complex with spf 30 ($12.95) and utilizes Hydresia, nature's moisturizer nurtured with safflower seeds. Also available in a.75 oz for $3.99. I haven't had the opportunity to really test these out yet because Ohio has been struggling to get out of "winter-mode"!
The unique Hydresia formula has been added to Kiss My Face's easy to use Sun  Spray Lotions for 2014.
Seriously! I can't ever remember March being like the one we just had: snow seemed to fall almost every other day and even into April we had snow. Public school kids were missing so much that the kids had "blizzard bags".  I believe parents were suppose to print off worksheets at home for their kids to work on while school was canceled and in my area the school days have been lengthened to make up for lost time.
But, we homeschool. No "snow days" for us!  We might take a "sun day" off here and there though 🙂  .  Check out some of the other Kiss My Face products below.

Just SOME of the other Kiss My Face products:
Sport Hot Spots spf 30 sunscreen for ears, brow, lips, nose and cheeks made with certified organic ingredients including beeswax, coconut oil and aloe, in addition to being fragrance free and water resistant.
Sport Lip Balm spf 30 ($3.49 for .15oz):  long lasting formula offering UVA and UVB sun protection in additon to being preservative free and water resistent. It's a soothing lip balm that smoothes and protects lips all day and is scented with lime and spearmint essential oils.
NEW Sun Spray Oil spf 30 ($15.99 for 6 oz):  An easy to apply, oil based sunscreen that offers fragrance free UVA and UVB protection that is also water resistant. Also uses an effective combination of skin glistening protection and antioxidant defenders – including green tea, carrot extract and vitamin E.
NEW Tattoo Shade spf 30 ($9.99 for 3 oz): Sunscreen to protect tattoos and keep them looking sharp with broad spectrum protection and Antioxidant Defenders of green tea and carrot extract and infused with an anti fade tattoo protection and nourishing viamin E and green tea.
New After Play Air Power Creme ($11.99 for 6 oz):  whipped creme lotion is enriched with skin nourishing antioxidants including shea butter, olive oil and vitamin E.
You can find more info about Kiss My Face at their website here.