I love it when I can afford to splurge on some "nice but not necessary" things. I usually can't justify doing this unless they are priced really low which means foregoing the cutsie designer looking products for the cheaper bland ones. I cut corners in pretty much every area of life it seems so while my "splurges" may not seem like a big deal at all to you, for me, they are a big deal!
So, on with my featured April splurges!  
A few days ago  I just happened to walk into a wonderland of Easter clearance at Walmart! The signs said 50% off but items were actually marked down to probably 75%. I only spent about $15 total for a whole bunch of baking supplies that I would not have paid full price for. Things I just don't splurge on, I was able to justify getting because they were so CHEAP! It's not all meant for my family either. I will be putting together a baking gift bag or basket for my secret sister 😀 .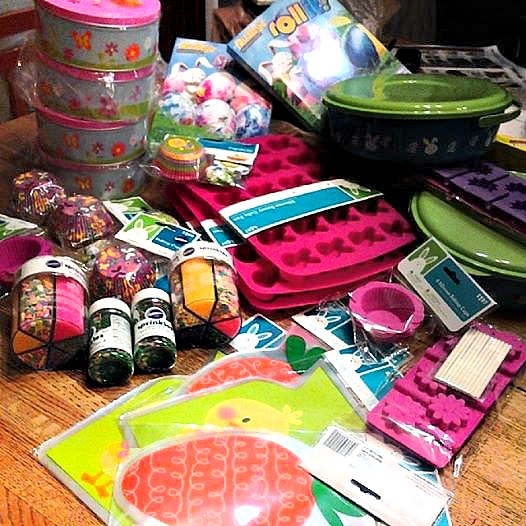 If you look closely you'll see I scored a number of silicone baking pans. They look like rubber candy molds. Some are cupcake holders. The big pink Easter bunny-head shaped pans came to $1.24, cute designer-like baking cups were under .50 cents I think and the tins were under .50 cent and cookie carriers were under a dollar!
Possibly my most exciting score though was getting Wilton 6 cell decorating sprinkles (variety-kind) for $1.22 each!
I figure I can use some of these items to create a great gift set for my secret sister this year! I think she'd love to have some of this and I can afford to put together a nice gift basket or gift bag thanks to clearance prices.
My Salvation Army haul this month
Mid-April I stopped into our huge local Salvation Army thrift store for half-off day (which is when almost everything is half-off). I like to pop in there every now and then and look for workbooks for homeschooling and things I can use  for my home in general. Sometimes it seems like I happen in there when a teacher must have retired her things! I find some good stuff 🙂 .
You can watch my video/vlog below (click here if you can't see it) to see my Salvation Army haul. I did forget to show the real Tupperware (vintage?) container I also picked up for like .99 cents in the video. Total spent was close to $15.
Have you scored any great deals lately?
The following two tabs change content below.
Owner/Editor
at
Hall of Fame Moms
Tracy writes about homeschooling and just about anything related to family life in Ohio here on the blog. Strong honest views will surface from time to time on topics related to truth, faith and freedom. **Check out my notebooks and Bible Memory Coloring Notebook workbooks for Adults & Teens by clicking my name.
Latest posts by Tracy Zdelar (see all)