A few years ago I wrote about my seven tips for enjoying Cedar Point with young kids  (and really it's applicable to amusement parks in general).
Well, Cedar Point invited us out for a blogger event recently and I picked out five highlights to share with you from that visit. I really have a lot more pictures (like, 17) of our day but those are all on Instagram. Want to see them all? 
If that was a yes, go here, they all happened on May 24th <—- that's to help you find them. In fact,  just look for the pic with me and the boys wearing "squids" on our heads. I also have that pic at the bottom of this post. That'll help you.
Here are my five highlights from our day at Cedar Point!
I found the time-out spot for kids who don't behave.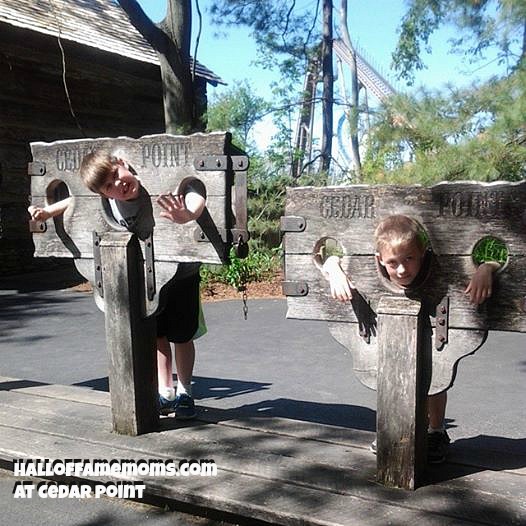 I just don't think it's all that effective though. It was kind of a popular spot and people actually wanted to stand in it for photos.
Oh well.
I now know what an Irritator looks like.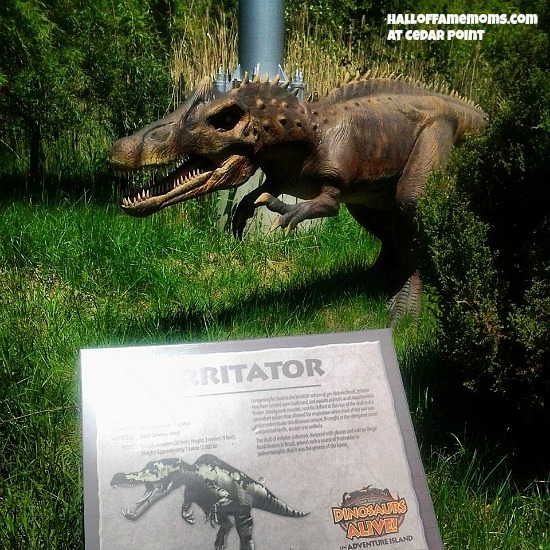 The sunshine is blocking the whole word but trust me… THIS. IS. THE. IRRITATOR.
I haven't found the Instagator and Procrastinator yet.

Hop on Pop (or anyone else) when you're tired of walking.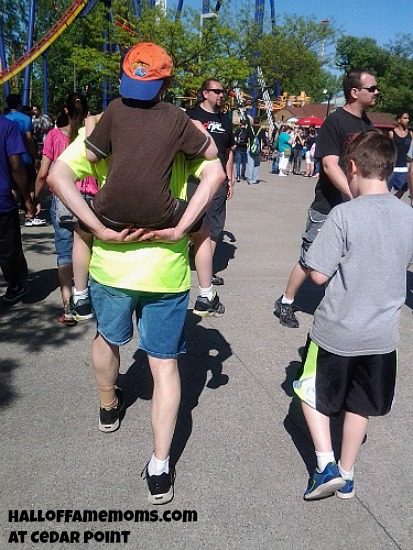 Unfortunately, this may only help those who are under 50 pounds.
Frugal folks can feed a family under $25.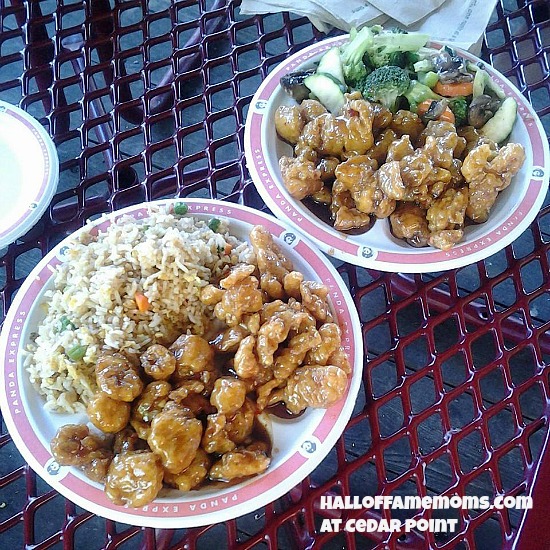 Yep. We are that family. These two plates of food (about $22) fed our family of four for dinner. Joel and I split with the boys who are 8 and 10 years old.
Earlier for lunch we ate a catered meal with the other bloggers. Thank you, Cedar Point!
Before we left the park later that night we did share a couple snacks with the boys – one big soft pretzel and a funnel cake.
Me & my oldest "squid"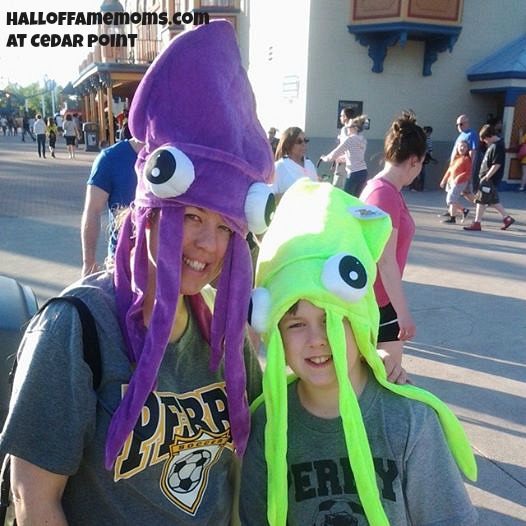 My boys won these squid hats – they're so cute! We got each of these by playing the "guessing game" where for $5 each the Game Host tries to guess your weight (or age, I think).  The Cedar Point employee guessed wrong so the boys won. My oldest really wanted one of these hats and when I tried to buy one in one of the shops I was told they had run out of this size. They had a much longer one more suitable for adults for around $21 and I didn't want to pay that much. that's why we tried the game and getting these for $5 each was great deal for us!
We had a good time at Cedar Point! 
We visited Dinosaurs Alive (hence, the dino picture above, see more on my Instagram wall). We rode the flying swings (me, praying for safety) – twice. We rode bumper cars, water rides, roller coasters, and did a lot of walking.
I remembered at least some of my tips and carried a refillable water bottle and filled up at the water fountains as needed, remembered sunscreen and hats,  and packed a change of clothes for the kids so the ride home would be comfy.
 Have you been to Cedar Point?  Follow them on Facebook here.  <—- Visit their fan page now to see featured special deals and a giveaway!
The following two tabs change content below.
Owner/Editor
at
Hall of Fame Moms
Tracy writes about homeschooling and just about anything related to family life in Ohio here on the blog. Strong honest views will surface from time to time on topics related to truth, faith and freedom. **Check out my notebooks and Bible Memory Coloring Notebook workbooks for Adults & Teens by clicking my name.
Latest posts by Tracy Zdelar (see all)