Update:    Well, $60 is a bit much to pay for a "cheap" tablet that doesn't last a year, as it has turns out. Today is February 11, 2015 and we've had a lot of trouble with these tablets over the months we've owned them. The boys have spent lots of hours playing on them though. However, with no clear explanation one is down for the count and the other is in question. We've had to push the "reset" button MANY times on these tablets. Also, we did have to exchange one of the chargers in the first couple days or so of owning it because it came apart.

Currently I have one help ticket in for the one that is clearly not working and it doesn't look like the one year warranty covers the problem. We will not be buying this brand again.
Well, our family has stepped a little deeper into the electronics abyss.
You see, we just aren't one of those families that have to have the latest in technology.  Only last fall did I break down and buy a smartphone (and join Instagram).  I pay month to month for the phone service (no contract) and I own the phone outright. As a blogger who does reviews requiring travel it was just time to get something I could use with social media while in the field. I still don't own a tablet or a lapbook – I do have a Netbook (about 10″) and a desktop computer which I share with my family.  — I am using my Amazon affiliate links in this post.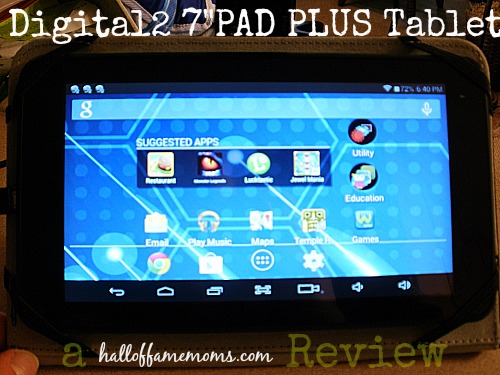 Only about a year and a half ago did we even buy a Wii – that is our only game system.
No XBox, no Nintendo…not even a DS. So I've been wanting to get my boys (aged 8 & 10) a tablet they could use for games and maybe with our homeschooling.  A friend of ours bought his 4 year old girl a Digital2 7″ tablet from Best Buy for under $60 (on sale) that has a kids "safe" zone.  When we finally made a trip to Best Buy the sale was over but the tablet was still just a hair under $60 and I knew I wanted to get each of the boys their own.
I'm also going to tell you about the 7″ tablet covers I bought elsewhere. Tablet covers can be so pricey! Yikes. But I found ours for less than $8 each and I like them and I'll tell you a thing or two about ours further down in this post.
We bought two Digital2 7″ Pad Plus tablets – one for each boy, approximately $60 each. I bought a sturdy protective cover/case for each one – less than $8 each and spent $1 on 18″ of sticky velcro. I'll explain why below.

Digital2 7″ Pad Plus
These tablets comes with…
Android (Kitkat) 4.4  <— I think KitKat is newer than Jelly Bean
Multitouch capacitive technology
Apps pre-loaded
dual core processor
built-in camera
8GB storage
built-in Wi-Fi
upgradable to 32GB via SD card
Android app on Google play
comes with MeeGenius, Toon Goggles and Kido'Z loaded (register with each as required)
While I am techy-challenged (and could probably use a copy of this) I still managed to figure out what I needed for the most part. I've only downloaded a handful of FREE games on them for the boys and I like that the games automatically show up in the KIDO'Z zone which is password/email protected. Once you log your child into that part of the tablet they cannot get out without a password.
The boys LOVE to play on these tablets! They've spent hours on them in the few days we've had them.
As a side note…
We haven't registered to use MeeGenius or Toon Goggles yet, not sure if we will. The packaging says MeeGenius is ebooks for kids and each tablet is loaded with 20 books. Toon Goggles is cartoons.
Since my boys are on a short-leash when it comes to any internet activity anyways I made the password easy so they can log in and log out themselves. However, if I decide I can't trust them to stay where they belong I can change the password so that only I can let them in and out of the KIDO'Z zone.
I don't think I want to do any purchasing  of apps/games via the tablets since I don't want the boys to accidentally buy something (I don't want any tracking of my credit card info on those tablets) so if we buy anything it might have to be through a gift card to the Google Play store.
This tablet seems to be geared for every age. Adults can read blogs and check Facebook and kids of all of ages can play games. I'm so glad to have found a cheaper tablet that is working for our boys.
The Tablet Cover/Cases
I found some "Universal 7″ Folio Case with built-in stand for use with all 7″ tablets" by Steelton Tech at Ollie's discount store (in North Canton). These cases are sturdy and look nice – but, best of all? They only cost $7.99 each (compared to $17.99). The only thing I don't like about them is the elastic straps don't look like they cover the corners as well as I'd like. I'm afraid the tablet might slip out of some of them so I fixed that with some velcro! Check it out below. [Find colorful tablet cases for under $10 with FREE shipping on Amazon here.]
I paid $1 for an 18″ strip of sticky-back black velcro from Walmart (in the sewing department).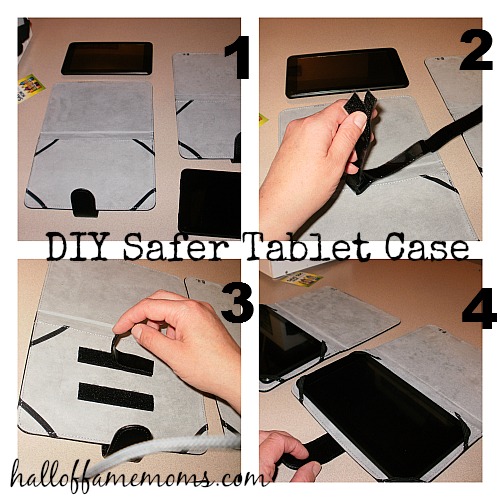 #1 – Our tablet cases opened.
#2 – I lined up my 18″ strip of sticky-back velcro so that the were attached.
#3 – I cut the strips into smaller sections and applied one adhesive side to the case. I kept the top piece of velcro in place so I didn't measure wrong once the top was adhered to the tablet itself.
#4 –  I laid the tablet onto the velcro piece with the adhesive showing so that everything was lined up right. Apply pressure and secure back into the elastic. The velcro will add some depth, but the device still fit about the same in our cases.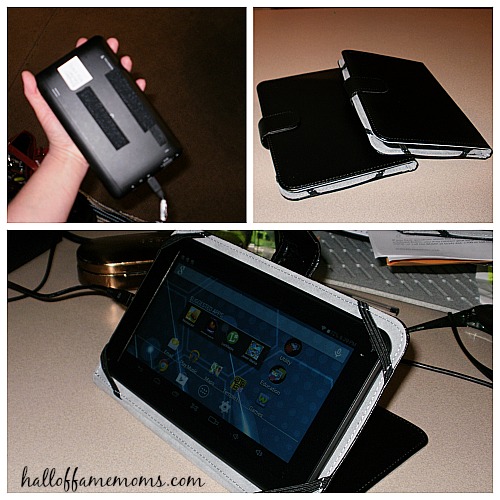 I love having the velcro on it. I prefer my boys keep their tablets in their cases, however,  one son says the case gets in his way while playing so he removes it while playing in the house.  My other son doesn't seem to mind.
I hope this review was helpful. This tablet is one of the least expensive I've found and so far we seem to be loving them 🙂 .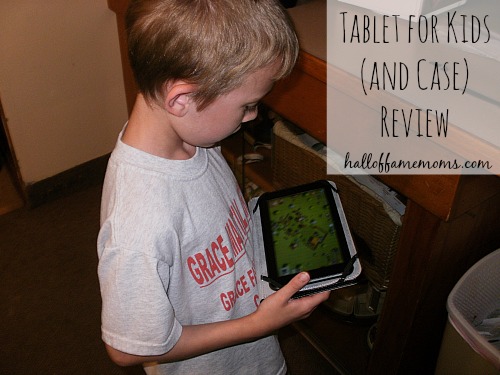 The following two tabs change content below.
Owner/Editor
at
Hall of Fame Moms
Tracy writes about homeschooling and just about anything related to family life in Ohio here on the blog. Strong honest views will surface from time to time on topics related to truth, faith and freedom. **Check out my notebooks and Bible Memory Coloring Notebook workbooks for Adults & Teens by clicking my name.
Latest posts by Tracy Zdelar (see all)