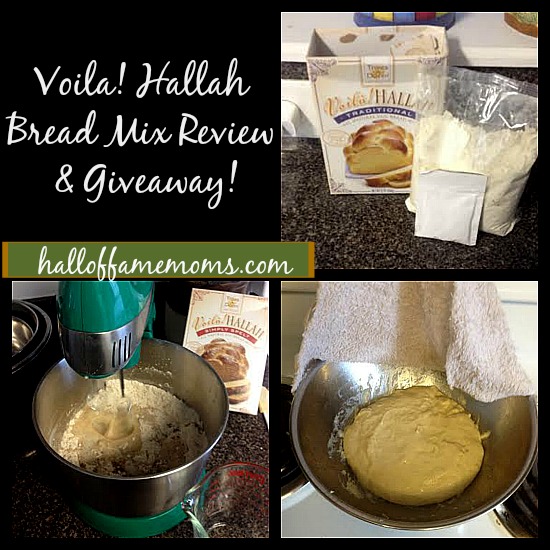 I was excited to be given the chance to review the Voila! Hallah bread mixes: Wholey Wheat, Simply Spelt and Traditional.
My previous experience making bread was working the midnight shift at an Ohio Amish restaurant, where my mom was the leading bread baker. There were occasions during the busy autumn season where she needed an extra pair of hands to help her in the kitchen in order to make enough loaves of bread for the following day. Needless to say, I learned how time consuming, back-breaking and finicky bread can be!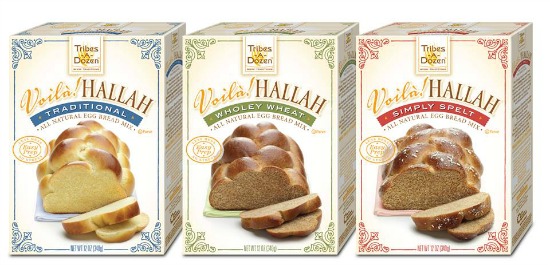 Well, have no fear! The Voila! Hallah bread is user-friendly and no special tools needed! Which is great because I don't have a fancy mixer, nor do I own a bread machine.
I recommend you do a few things before getting started:
Lay out all your tools ahead of time.
Preheat the oven.
Make sure your timer works!
Open your bag of flour and have a pile already laid out on your cupboard.
Pre-measure all of the other ingredients and have them arranged on your working surface.
Pre-grease your bowls and baking pans.
Let the dough rise according to the package instructions and don't hurry this process. Otherwise, you'll end up with a "tough" bread texture. A little trick I learned from my mom was to use a warm, damp cloth to lay over the bread bowl while it's rising. (Just make sure the cloth doesn't touch the dough or you'll end up with a mess.)
Have your egg wash at room temperature and don't skip this step! I skipped it for one of the breads and my bread looks "dry" (but tasted amazing!)
I decided to create the bread loaves that our family needed for that weeks meal plan.
For the  Traditional I braided the dough and made it into a long loaf, sort of like an "Italian" like loaf;  the Simply Spelt was made into dinner rolls and for the Wholey Wheat I braided  it into a wide loaf (used for sandwich's and french toast).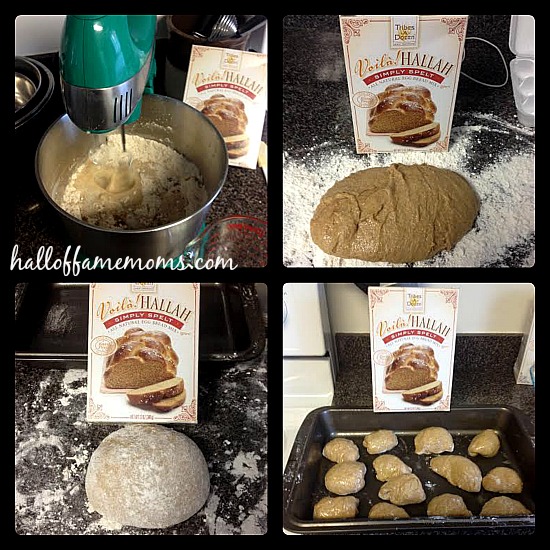 The overall experience of using the Voila! Hallah bread mixes was a welcome experience and the aroma of fresh baked bread brought memories of helping my mom as a bread baker. If you're leery about making homemade bread I recommend giving the Voila! Hallah bread mixes a try!  Visit the Tribes-A-Dozen Facebook page for lots of pictures of lovely bread!
Want a chance to win a set of all three Tribes-A-Dozen Bread mixes to try at home?!
Follow the Rafflecopter instructions below! One winner will be picked by random and emailed. Giveaway is open to the 48 continental United States only. Previous winners of Tribes-a-Dozen giveaways are not eligible to win.
Tribes-a-Dozen products are found in stores around the country:  Walmart (see Kosher aisle), Kosher set, MOM's Organic Markets, Giant Stores, Relay Foods, other Kosher and Specialty Food Stores (see store locator here).
Voila! (my affiliate link –>) Hallah bread mixes are available online from Amazon.com and AbesMarket.com as well!
The following two tabs change content below.
Stephanie Grams is a wife, mother to 4 and entrepreneur since the age of 7. Having built a successful virtual marketing assistant business in 2006, she brings years of internet marketing knowledge to online business owners like you!
Latest posts by Stephanie (see all)