Congrats to Su N, winner of the 16×20 canvas!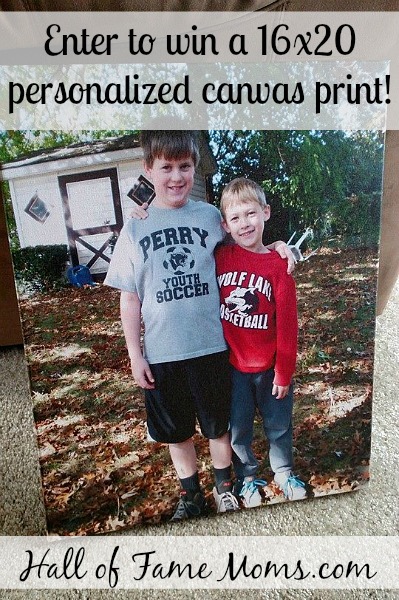 I'm loving my personalized 16×20 canvas! I've never ordered one before so when Canvas Factory, a brand new company here in the US imported from Australia, pitched me to review one and give one away I decided to try it out.
I think the hardest part of the whole deal was choosing a picture for this project! It only took about 11 days between ordering and receiving and shipping is FREE in the USA and Canada. It was packaged very well for shipping, too. My 16×20 canvas is lightweight which makes it easy to hang (no worries about needing a heavy duty nail).  For FTC purposes: I did receive this for free and opinions are my own. Canvas Factory is providing the prize for my giveaway.
So, back to picking the photo. It would have been great to have had an updated family photo to use; I didn't have one.  I decided to take some pictures of our boys in the backyard. The photo I chose, and subsequently this canvas, is special to me because of this picture taken last month just days before we moved to our new home. This was "their" backyard for all their life – and the only house my husband and I have lived in for all our marriage (12 years!). The boys grew up in this backyard.
Choosing to move. Fortunately for us, the  Pro Football Hall of Fame has been buying houses in our neighborhood for years, which is near their museum. I had been ready to move for some time. We just had outgrown that street and house.  In hopes of being able to avoid paying a real estate agent, I had called the HOF different times to see if they were interested in buying our home. Wellll, it didn't work out that way. They took too long to get back with us.
Finally, we signed up with real-estate agent Julie Kaszyca to get our home on the market (who at the time also happened to be the only Dave Ramsey certified agent in our area).  Well, of course, the HOF called about a week after the "for sale" sign went in the yard! Julie did a great job representing us throughout negotiations with the HOF's attorney. We did get a lot less for the house than we had hoped for,but it was a fair offer considering the terms.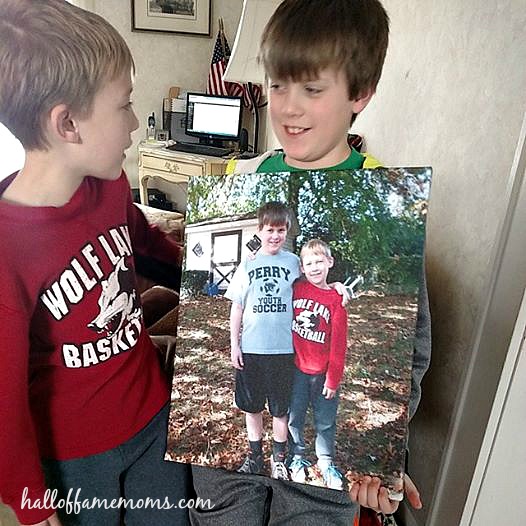 The Canvas Factory doesn't only do personalized canvases, they also sell canvas art! So maybe you just want something pretty on your wall, nothing personal. Check out their selection! They also offer acrylic glass prints and aluminum prints starting at $29.70. Their canvas prints come in varying sizes, even collage and split.
I haven't settled on a permanent place for our special canvas. I just started hanging pictures in our new home days ago, so, for now it hangs in the hallway going up the stairs.
I love that the Canvas Factory offers FREE SHIPPING all the time in the USA and Canada, and, I did see that today they are offering 70% off all their canvas prints! I'm happy to have the chance to give one 16×20 canvas print away on my blog. Are you ready to enter for a chance to win it?
Just in time for Christmas! Enter to win!
It's so simple! Just leave a comment below this post on the blog telling me why you want to win or what special photo you'd like to turn into a canvas print! ONE comment per day.
I'm even going to let you come back once per day, every day to leave one comment to increase your chances!!
Giveaway begins today 11/22/14 and ends 11/30/14 at 11:59pm and is open to USA and Canada residents only.  Winner picked by random and will be emailed. Winner's first name and last initial will be announced on Facebook and Twitter.  Emails are not sold. Winner's email will be given to company representative if necessary for prize fulfillment. Entering this giveaway will serve as you giving permission to all of the above.