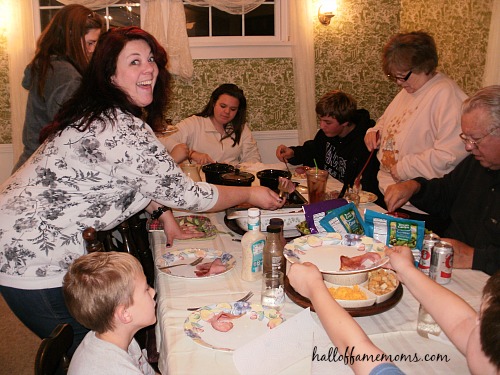 That's my sister. Well, one of my five (throw in three brothers and that makes nine of us "kids"). She's a natural ham. It's hard to stay mad at a face like that. This is "the younger sister" who would take my stuff when I lived at home and tried to teach me how to flirt with  my eyes. lol
People say when you've seen one of us you've seen them all. We just look so much alike 😉 .
Joel and I  invited my parents, baby sister, and Jess' family of five (plus an extra niece!) over for dinner the other night; and, here we are mostly fitting around our table that can squeeze in about 10 people: thirteen people in all.  Dinner was provided by HoneyBaked Ham because they wanted us to show  how easy HoneyBaked Ham can make anybody's holiday dinner delicious and  – easy! Opinions are my own and I will be compensated for my time.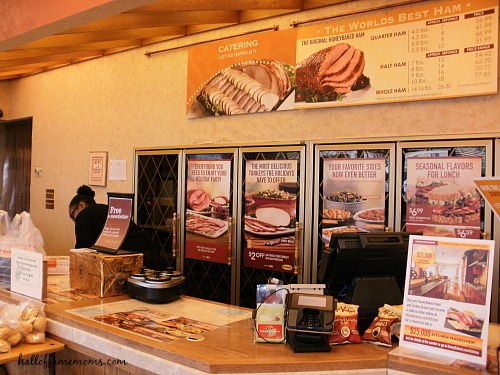 I made a stop into our local HoneyBaked Ham store in North Canton (the Belden Village area) to pick up the prepared half bone-in ham, a 2.5 pound roasted turkey, some garlic mashed potatoes, stuffing, gravy, pretzel bun rolls and jalapeno cornmeal rolls, and dessert! The special holiday pies weren't ready at my local store so I picked up a Pumpkin Coffee Cake. The rolls were on sale and sounded interesting so I grabbed a couple bags. Glad I did, too.
Preparing the side dishes and gravy is as easy as removing all appropriate packaging and sticking into the oven for about a half hour. Since I wanted to warm up the already cooked and sliced ham and turkey after the sides were done, I simply transferred the garlic mashed potatoes and stuffing into my three-pot Crockpot to keep warm.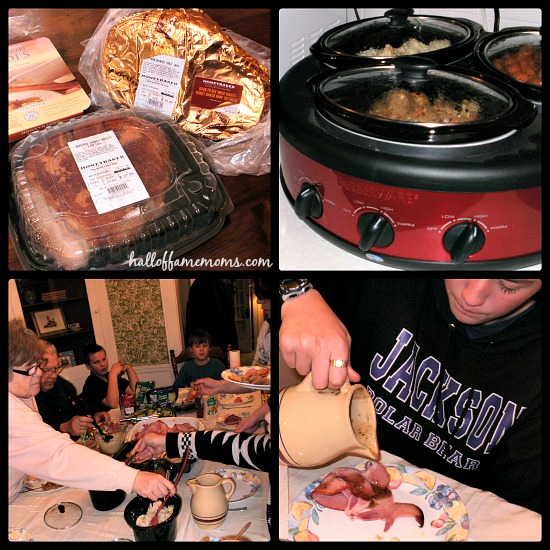 Doesn't that turkey below look DELISH! That succulent yummy glaze melts into a sort of gravy of it's own when warmed up. It's already sliced, just separate the slices into your baking pan to warm up in the oven. We separated the ham slices into a large casserole dish to warm up as well.
I was surprised that my boys, who are very picky eaters, enjoyed the jalapeno cornmeal rolls so much. They kept eating them! The rolls are not spicy hot. The pretzel buns were very good too, I preferred those.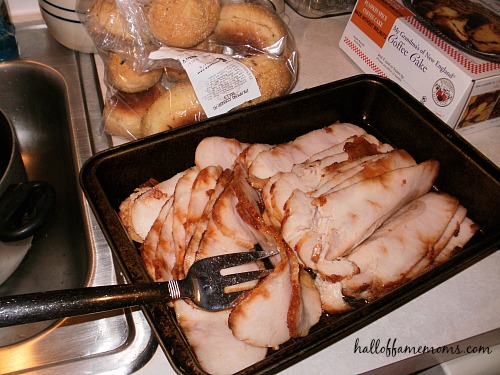 The Melmac. I just can't help but think of that old sitcom "Alf" when I see the word Melmac. Remember Alf, from planet Melmac? Anyways…
Okay so, I ran out of forks and we thought we were out of good plates by the time it was Jess' and my turn to fix our plates. What we found to use in place, as you now know, were baby forks and Melmac dishes.
Oh. And, those are some fancy napkins in the background (spiderweb paper towels).  Yeah. Did I mention in this post we just moved to a new house?
The food was just as tasty on Melmac, with a baby fork.  My dad loved the ham so much he wanted to take some home with him so we shared the leftovers 🙂 . So, I guess I get a 6.5 on the fancy-scale, right? 😉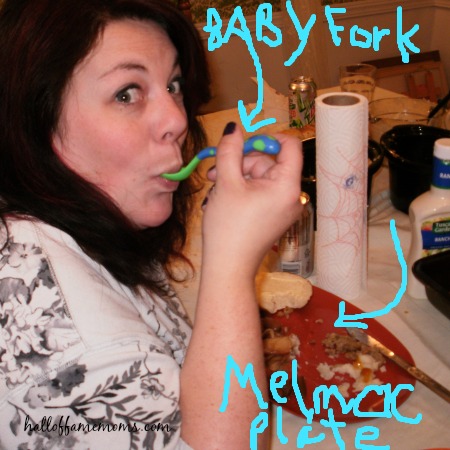 How about some HoneyBaked Ham Giveaways?!!
…and a coupon!
From now until 1/11/15 you can enter to win a $25,000 HoneyBaked Kitchen Makeover when you buy a Ham and Turkey Breast bundle.
Check out this limited time coupon for $7.00 off any Sliced and Glazed Whole Turkey and 4lb Quarter Ham (Or Larger) from HoneyBaked Ham to help you make your holiday dinner easy and delicious! (Offer Valid at Participating Retail Locations:Forestville, Silver Spring, Alexandria, Fairfax, Falls Church, Fields Ertel, Beechmont, Kenwood, Colerain, Florence, Salem, Centerville, Sawmill Road, McNaughten, Louisville, Lexington, Fern Creek, Glendale, Paradise Valley, Superstition, Tucson East, Tucson North,Overland Park, Independence, Barry Road, Norristown, Parma, Willoughby, Rocky River, Strongsville, Maple Heights, Canton, Fairlawn and Chapel Hill.)
HoneyBaked Ham is giving away a $500 Gift Card! You can enter below!