Back in August I shared that we had sold our home and were in search of our next one. In early October we closed on the purchase of our new home and this past week we began moving in.
Moving a family is a HUGE job, and I may have underestimated that fact. This is the first time we've moved in our 12 years of marriage. There was just two of us then, with the boys – four of us now. We certainly aren't done with moving and cleaning the old house, but we are far enough done to be living in our new home now. 😉
What made us decide on the home we purchased was the fact that it was the closest to getting the best of everything we were looking for while not getting everything we wanted. Does that make sense? I really wanted a master bath (didn't have to be anything fancy, just some privacy for me in a house full of males). There isn't one in this house. In fact, there isn't a bathroom on the main floor of this (built in 1920) home. There is a small bath in the finished basement and one upstairs with the bedrooms.
Joel and I are not fixer-uppers. We just don't have the money or vision. I think we may not have the vision because we know we don't have the money. We liked that this home was very well updated and there is little wasted room space. The home is so charming and has a lot more to offer than our previous home.  Want to see the main bath?
The Bathroom.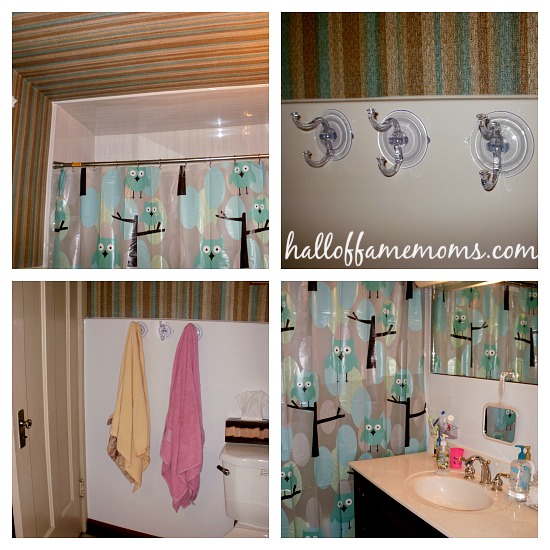 I want to mention that the surrounding wall is like shower board, but nicer. I'm not sure what it's called. This will make it easy to clean (wipe off!). To make use of this space I bought a variety of suction cup accessories. I found plastic hooks to suction to the wall as towel holders at Walmart. The large hooks hold up to 10 pounds I believe.
I bought some smaller hooks and accessories for the in front of the sink and in the shower to hold wash clothes and other toiletries like toothpaste, toothbrushes and razors. Even that hand mirror hanging upside down. Because the mirror is so high up, I bought a sturdy suction-cup hook to hold a hand mirror for my boys' use. The priced mirror options and this was the best, in my opinion – $3.99 at Bed, Bath, and Beyond. I bought a couple other things and used a $5 off $15 purchase to save money there.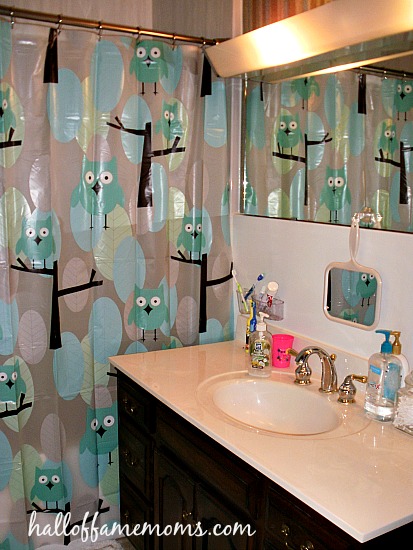 As you may have noticed the bathroom is wallpapered across the ceiling! It actually looks very nice and I don't plan on changing it.  I received a $10 off a $10 or more purchase JCPenny's coupon the other day so I went shopping there for a shower curtain. I found this adorable owl curtain and easy to use "s" shower hooks in the home department for Buy ONE Get ONE 50% off.  I paid less than $14 total for the set!! I was so happy about that. I really wanted an owl curtain, but wasn't sure if I could find one to match and in my price range.
The Fireplace.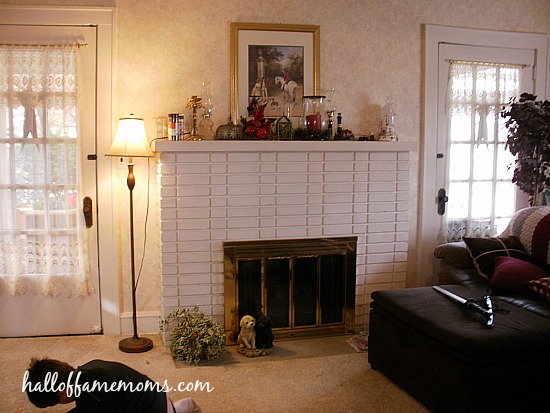 I was so excited about this! A prayed about a lot of things regarding our move while knowing that I may not get any of them. I do believe the Lord wants to hear these requests just like an earthly father would want to know our desires.
This fireplace was wood-burning; but, the previous owners, who lived here for 50 years, converted it to gas. It has a deep mantel which extends about 14″ and has a couple electrical outlets on it. Right the mantel just has a bunch of stuff on it that needs put away.
The Foyer.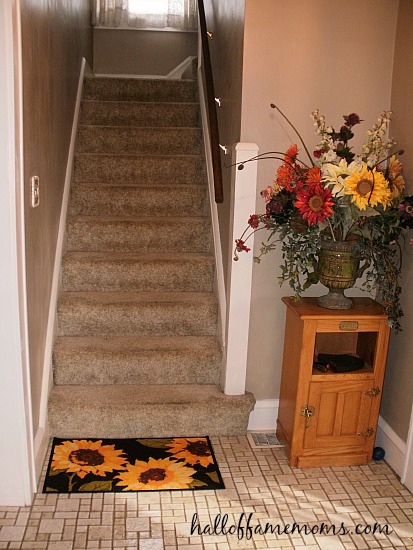 When you walk in the main door this is what you see. It's small, but it's a foyer and I'm so happy to have one.  That beautiful flower centerpiece was given to me (a hand me down from family) and I bought the matching rug at Kohl's the other day, on sale, for $6.99 (regular $14.99). Did you know that Kohl's now has a rewards program called YES2YOU? I believe you get one point for each dollar spent and it comes back to you in a coupon via email. Be sure you ask about it next time you shop at Kohls. I signed up last month and earned some extra points for one thing or another and got a $15 Kohl's coupon to use this month.
I plan to share more pictures later as we get things done. Thanks for taking time to visit today 🙂  .
The following two tabs change content below.
Owner/Editor
at
Hall of Fame Moms
Tracy writes about homeschooling and just about anything related to family life in Ohio here on the blog. Strong honest views will surface from time to time on topics related to truth, faith and freedom. **Check out my notebooks and Bible Memory Coloring Notebook workbooks for Adults & Teens by clicking my name.
Latest posts by Tracy Zdelar (see all)