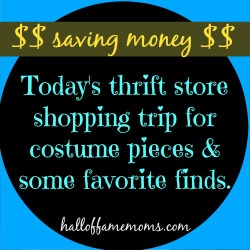 Yesterday I did some thrift store shopping again with the purpose of finding costume pieces. My oldest son wants to dress up as an astronaut our Classical Conversations end-of-the-year party presentation; and, my husband and I have a Murder Mystery Dinner party to dress in costume for as well. I have been hitting the thrift stores quite a bit lately!
Thrift store shopping is a great way to save money on creative pieces to put together for your own costumes. I plan to share a "part 2" video later of how our costumes came out. You can subscribe to my Youtube channel here so you don't miss that one when it comes out.
Do you thrift-store-shop? Feel free to share any tips in the comments below that might benefit the rest of us, thanks!