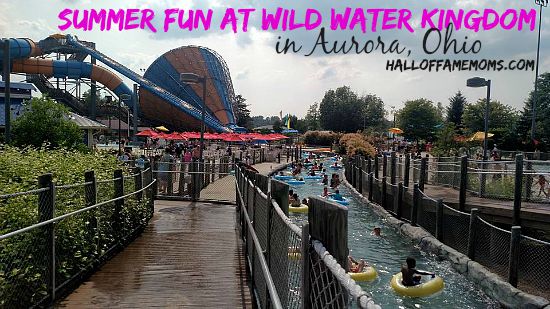 As a member of the Cedar Point Blogger community we were invited to experience Wild Water Kingdom in Aurora, Ohio recently so we could share it with you! While we received everything we needed to complete this review, opinions are our own.
Wild Water Kingdom is an outdoor waterpark. I talked to a fellow blogger-friend and she told me that WWK is now "their" pool since the pool they use to use closed up. I think she said she buys a season pass for her and the kids to come and they may visit weekly. If you live nearby this may be a great option for YOU.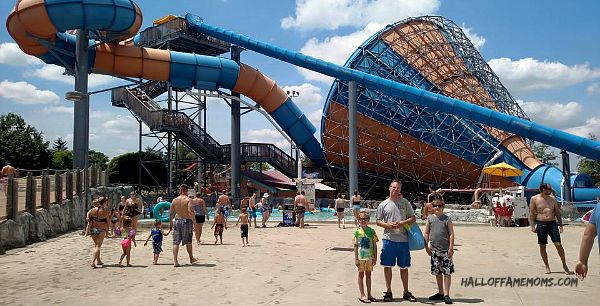 My husband and oldest son went on that big water slide you see in the background. Our  youngest didn't want to so I stayed off with him. It was a wilder ride than my husband expected, he was trying to convince our youngest to go on it, afterwards realizing Jack probably wouldn't have liked it 🙂 . I think we spent more time in the lazy river than any other part.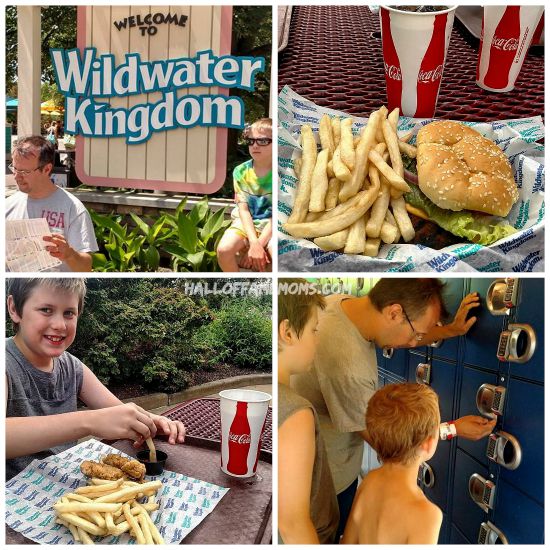 Wild Water Kingdom has lockers you an rent for a price starting at $10 for all day, this is the locker we rented. It was roomy enough to keep what we needed stored as we kept our dry change-of-clothes in the car and kept our towels and shoes with us.
We chose to eat at the Happy Harbor Cafe because of the nice selection in food. The boys had the chicken fingers/fries combo with drink and my husband and I got the cheeseburger/fries combo with drink. The combos run around $12 (more or less) and are filling! It was a good burger, too! There were other menu items to choose from as well.
It's been years since our first visit to WWK as a family. You can see a video from that trip below. In this video you'll see some of the park that pertains more to the younger children as our boys were much younger then! Now that they are older we didn't hit up the younger-child section.
I just love hearing my son's itty-bitty kid voice in this video below.  🙂
Have you been to the Wild Water Kingdom in Aurora, Ohio yet?