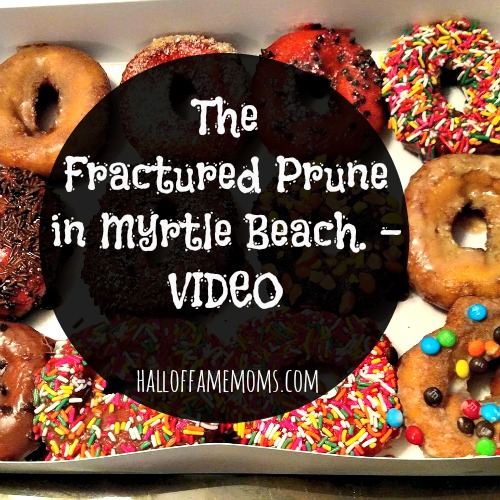 2019: Check the website for current locations as the one in Myrtle Beach may have closed.
**************
So, if you do go to Myrtle Beach anytime soon I highly suggest you stop by the Fractured Prune. These are not "just donuts"… these are… "WOW…hold me back" good! We learned about this doughnutty wonderland from family we were visiting in the area. We just had to check it out!
At the Fractured Prune you get to pick a glaze (frosting) and add up to two toppings. They have a list of popular picks but you don't have to go there. You can create your own masterpiece.
They even have BACON.
We stopped at the Fractured Prune twice picking up a dozen doughnuts each time and by the end of the week we had earned at least four free donuts.
Yeah, I didn't weigh myself after vacation for probably close to a month.
Enjoy my video below of watching the man-in-charge make our order of a dozen to go!
Check out the rest of our Myrtle Beach Vacation series here.
The following two tabs change content below.
Owner/Editor
at
Hall of Fame Moms
Tracy writes about family life and travel here on her blog Hall of Fame Moms and has been interviewed on Ohio Podcast, local radio and Prepper Chicks. Find more info on her About Page.
Latest posts by Tracy Zdelar (see all)